Worst Princess on Tour
Published: 14 September 2014
Reporter: Peter Lathan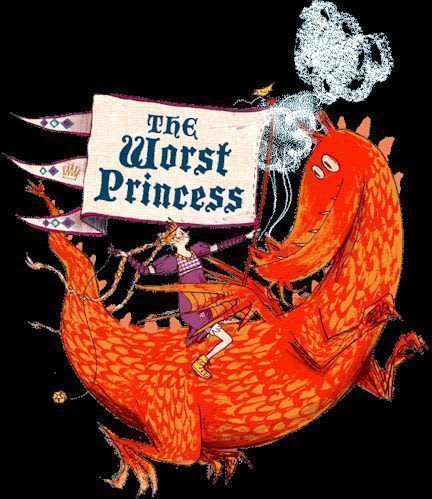 New Writing North's production of The Worst Princess, for the under-7s, is to tour the north east and beyond throughout October.
Adapted by Carina Rodney from the children's book by Anna Kemp and Sara Ogilvie, the play will tour to 40 community venues, libraries, village halls and schools throughout County Durham and beyond, as part of Durham Book Festival 2014.
The small-scale touring production features original live music, a picture book set designed by Andrew Stephenson and plenty of scope for children to join in with singing and dancing. The play is directed by Ruth Johnson and North East performers Rachel Gay and Jeremy Bradfield will join musicians from Sage Gateshead, Claire Tustin and Joe Johnston, on stage.
The running time is 50 minutes.
In a lonely tower, Princess Sue has waited one hundred years to be rescued by a loyal prince. But when he finally does arrive, the prince is not quite what she had in mind. With an equally disgruntled dragon by her side, Princess Sue sets out on a quest for fun and freedom in the land of storybooks.
"Princess Sue paid attention at Princess School and thinks life is going to be like a storybook," director Ruth Johnson said, "but when it comes to it, she realises that this is not the story for her.
"We want to celebrate lots of different ways to be who you want to be. If you want to be a princess, blooming brilliant, but if you want to be a dragon or a prince, that's brilliant too. It doesn't matter if you are the worst princess, it's all about being the best possible you."
The production opens at Gateshead Old Town Hall on Monday 29 September at 1:30PM and then tours to:
30 September, 10:30AM & 1:30PM
Newcastle City Library
Wednesday 1 October, 10AM
Chester-le-Street Library
Wednesday 1 October, 2PM
Ferryhill Library
Thursday 2 October, 10AM
Bowes Village Hall
Booking in advance only on 01833 628357
Friday 3 October, 10AM & 2PM
Blyth Central Children's Centre
Saturday 4 October, 10AM
Ashington Children's Centre
Saturday 4 October, 2PM
Whitley Bay Customer First Centre
Monday 6 October, 9.30AM
Greenfield Community and Arts Centre
Monday 6 October, 2PM
Bishop Auckland Town Hall
Tuesday 7 October, 10AM
St Cuthbert's Church, Peterlee
Tuesday 7 October, 2PM
Jubilee Hall, West Rainton
Wednesday 8 October, 10AM
Newton Aycliffe Library
Wednesday 8 October, 2PM
Crook Library
Thursday 9 October, 10AM
Haltwhistle Library
Thursday 9 October, 2PM
Lanchester E.P. Primary School
Friday 10 October, 10AM
Ebchester Primary School
Friday 10 October, 2PM
Tow Law Community Centre
Sunday 12 October, 10:30AM
Durham Book Festival: Durham Town Hall
Sunday 12 October, 2:30PM
Dipton Community Centre
Wednesday 15 October, 10AM
Peterlee Library
Wednesday 15 October, 2PM
Seaham Library
Thursday 16 October, 10AM & 1:30PM
Manchester Literature Festival:
Beswick Library, M11 3DS, (10am)
North City Library, M9 4AF, (1.30pm)
Saturday 18 October, 10AM
Tanfield Lea Community Centre
Tuesday 21 October, 10AM
St Cuthbert's Centre, Crook
Tuesday 21 October, 2:15PM
Stanhope Barrington CE Primary School
Wednesday 22 October, 10AM & 1:30PM
Hardwick Primary School
Thursday 23 October, 1:30PM
Waterhouses Community Centre
Tickets: Free (booking required on 07596 044238)
Friday 24 October, 10AM
Cramlington Library
Saturday 25 October, 10:30AM
Seven Stories, Newcastle
Saturday 25 October, 2.30P
Pelton Community Centre
Monday 27 October, 10AM
Crown Street Library, Darlington
Monday 27 October, 2PM
The Witham, Barnard Castle
Tuesday 28 October, 1:30PM & 3:30PM
Off the Shelf: Millennium Gallery, S1 2PP
Thursday 30 October, 10AM
The Robin Todd Community Centre, DH6 2TH
Thursday 30 October, 2PM
Trimdon Station Community Centre
Friday 31 October, 10AM
Greenhills Community Centre
Friday 31 October, 3PM
Frosterley Village Hall