Writer's dark times lead to "chilling" Buxton tale
Published: 13 July 2013
Reporter: Steve Orme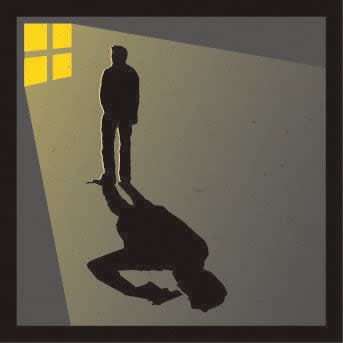 An "intense and chilling tale" that is "firmly within the horror genre but also raises poignant issues relating to mental health" gets an outing at Buxton Fringe before going to Edinburgh.
Sheffield-based Sheepish Productions's Shadow on their Wall "subjects the audience to one man's darkest hour, pausing to reflect on lost love and happiness, as he faces his inner demons and where they have left him".
Playwright J J Fletcher says, "The play was originally supposed to be 40 minutes of horror but a couple of reviewers considered there was more to it.
"With hindsight, I'm not surprised that the reviewers took more from the play than I had originally anticipated.
"While the play is far from being autobiographical, I did draw on some very dark times and feelings that I'd experienced in the past.
"Those dark times related to the deaths of several close family members over a five-year period from 1998 to 2003.
"Being an only child, the most brutal part was one parent passing away with the other parent dying 18 months later. I've found writing to be enormously therapeutic and enjoyable."
Shadow on their Wall will be performed at Underground Venues, The Square, Buxton on Tuesday (16 July) at 9PM and Saturday (20 July) at 11PM.