Young people to join RSC Romeo and Juliet cast
Published: 22 March 2018
Reporter: Steve Orme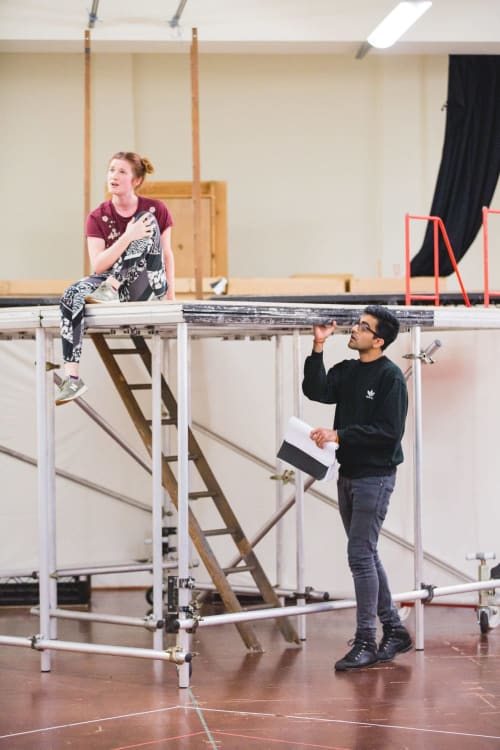 Fifty-six young people from Birmingham, Coventry, Northampton and Warwickshire will join the professional cast in the Royal Shakespeare Company production of Romeo and Juliet.
The young people aged between 12 and 18 attend schools in the RSC's associate schools programme or work in partnership with the RSC. They will perform in teams of four each night in the Royal Shakespeare Theatre, sharing the role of the chorus with the professional cast.
RSC deputy artistic director Erica Whyman, who directs Romeo and Juliet, said, "we were bowled over by the impact our tour of A Midsummer's Night's Dream: A Play for the Nation had on the young people who took part and those who came to watch as we crossed the UK.
"I want to build on that hugely positive experience as we stage Romeo and Juliet, opening up a dialogue with young people in schools in ways we've never been able to do before."
Claire Day, an English teacher at Hall Green School, Birmingham, commented, "it's a once-in-a-lifetime opportunity for our students, none of whom has any previous theatre experience. We're hoping that their involvement will fire the interest of all our students."
Taking part from Birmingham are Moseley School and Sixth Form, City Academy and Hall Green School. Young people from Sidney Stringer Academy and President Kennedy School Academy in Coventry will join the chorus, along with the Lings Performing Arts Academy in Northamption.
In Warwickshire, schools taking part are Stratford School, Campion School, Leamington Spa, Stratford College, Myton School, Warwick, St Benedict's Catholic High School, Alcester, Shipston High School,Kineton High School and Welcombe Hills School.
The aim of the RSC's associate schools programme is to bring about a significant change in the way young people experience, engage with and take ownership of the work of Shakespeare.
The professional cast of Romeo and Juliet includes Afolabi Alli (Paris), Donna Banya (Gregory), Stevie Basaula (Sampson), Ishia Bennison (nurse), Katy Brittain (Friar John / apothecary), Raif Clarke (Peter), Beth Cordingly (Escalus), Paul Dodds (Montague), Josh Finan (Benvolio), Karen Fishwick (Juliet), Andrew French (Friar Laurence), Bally Gill (Romeo), Mariam Haque (Lady Capulet), Michael Hodgson (Capulet), Charlotte Josephine (Mercutio), John Macaulay (cousin Capulet), Tom Padley (Balthasar), Sakuntala Ramanee (Lady Montague), Raphael Sowole (Tybalt) and Nima Taleghani (Abraham).
Romeo and Juliet is designed by Tom Piper with lighting by Charles Balfour. Music is by Sophie Cotton and movement by Ayse Tashkiran. It runs from Saturday 21 April until Saturday 21 September (press night Tuesday 1 May).