10 Things to Do in a Small Cumbrian Town
Written and performed by Hannah Sowerby
Hannah Sowerby and Alphabetti Theatre
Alphabetti Theatre, Newcastle
–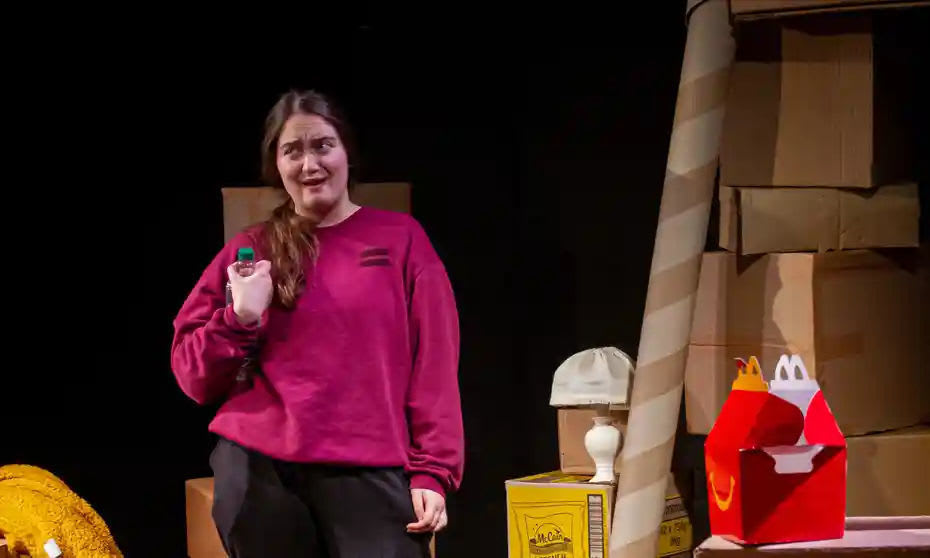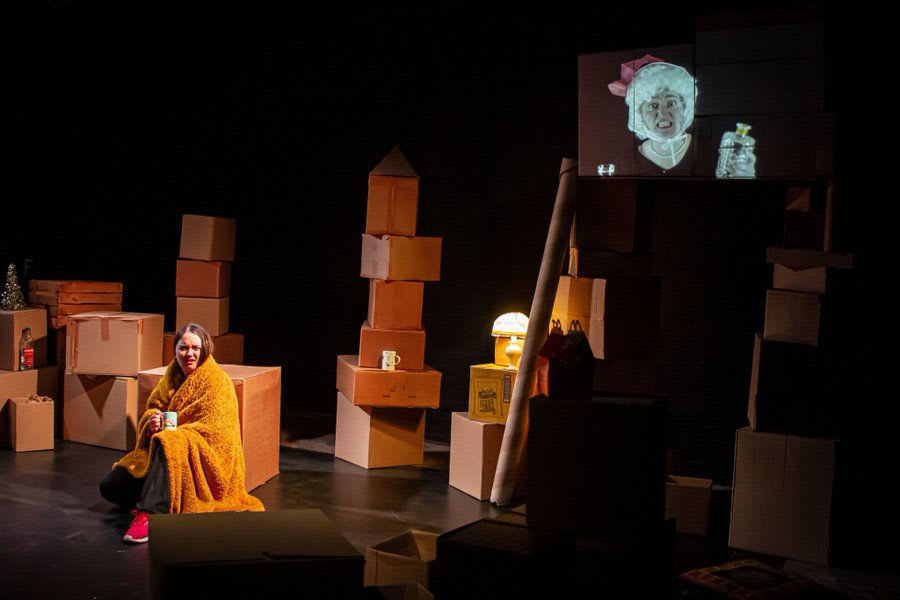 Jodie's 19 and lives with her Nana (who swears a lot and is a bit of a bully really) in a flat above a kebab shop in Penrith, a small town in Cumbria on the fringes of the Lake District. Her friends have gone off to uni but she's not sure. She wants to be a writer but her Nana makes her get a job—as a shelf-stacker in Sainsbury's. The few boys she knows of her own age are weird, and anyway, she thinks she might be bi (or even lesbian). She knows she wants to kiss a woman and touch her boob. She really likes her namesake, Jodie Whittaker. You know: the one who plays Dr Who.
Oh yes. And she has regular sessions with a counsellor who doesn't really seem to be very good at her job.
For 80 minutes, on a set made of cardboard boxes of all shapes and sizes (designed by Anna Robinson), with the assistance of voice-overs from actors Ruth Mary Johnson, Shannon Recrowft, Conor Neaves, Rachel Stockdale and director Jonluke McKie and projected videos of Nana (oh, she'd definitely scare me!) from Saya Naruse, Hannah Sowerby talks us through her life, drawing us in so that we share not just the minutiae of her somewhat circumscribed life but the small sorrows and even smaller joys.
She keeps us amused. At times, in fact, we laugh out loud, but beneath the laughter and the amusement there is a vein of sadness. Not quite the tears of a clown, but we do see a young girl who is trying to make the best of her situation. To help her, she decides she will make a list of ten things to do in her small Cumbrian town, Penrith...
Making a piece like this work needs a storyteller with an engaging personality who can turn our emotions in whatever direction she wants, and this is just what Hannah Sowerby does, with a little bit of self-mockery, easy transitions from mood to mood and imaginative use of the plethora of boxes to create anything from a bedroom through a static caravan to the crisps aisle at Sainsbury's. And more.
Even though she's still in her mid-20s, Sowerby is a well-established playwright, performer and comedian and it shows in both her writing and performance. There were a couple of moments when I felt she was teetering on the edge of sentimentality but the line was never crossed and, in any case, sentimentality is part of everybody's life at one time or another.
So we see the—it has to be said—limited range of feelings and experiences which make up the life of this young woman, and her storytelling style enables us both to experience for ourselves and also to stand outside looking on. Cleverly written and engagingly performed, 10 Things to Do in a Small Cumbrian Town is both enjoyable and illuminating.
Well worth seeing.
Reviewer: Peter Lathan