100% Cuban
Choreography Raúl Reinoso, Norge Cedeño and Thais Suárez, Pontus Lidberg, Maria Rovira, Alexis Fernandez (Maca) and Yaday Ponce
Acosta Danza
The Lyric, Theatre Royal Plymouth
–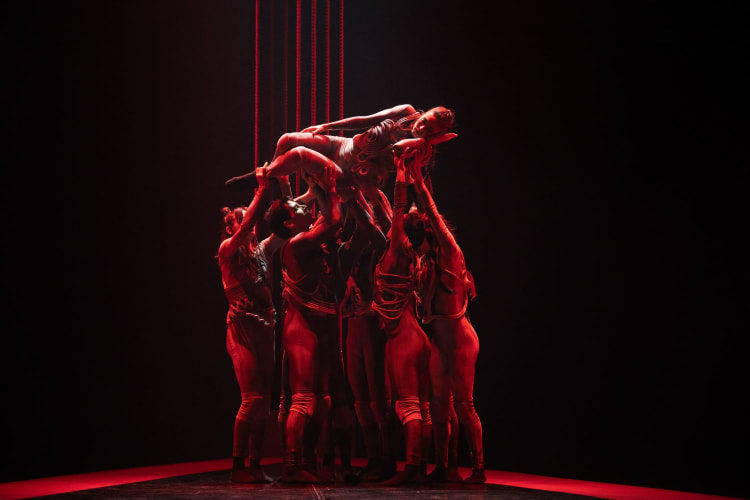 Acosta Danza is back on tour with 100% Cuban bringing more than a breath of hot Cuban sass, contemplative intensity and joie de vivre.
Carlos Acosta's creation is now approaching seven years old and the talent of his troupe goes from strength to strength, showcasing an eclectic mix of classical and contemporary genres exploring the Caribbean island's folklore, dance and musical heritage.
But this is the Zeleidy Crespo show.
The stunning, mesmerising dancer is magnificent in the UK premières of the two-hander Liberto by young Cuban choreographer Raúl Reínoso and Impronta created for Crespo by Spanish choreographer Maria Rovira, who created the dances for Yuli, the feature film about Carlos Acosta's life.
Liberto is a rather confused narrative of the escape of a slave (Mario Sergio Elias) and his productive encounter with a goddess. Pepe Gavilondo's score is full of percussive wooden blocks and bongos while flickering lights echo the jerky awkward angles of the contorting bodies with athletic lifts and contrasting, softer, more traditional pas de deux. Slo mo and clever manipulation gives way to frantic grappling as freedom is ended with a net and godly intervention.
If Impronta tells a tale, I missed it in the sheer exhileration of Crespo's lithe exploration of the island's Afro-Cuban legacy. A short solo piece sees the tall, shaven-headed command the stage with serene poses, traditional dance fusion and pizzazz as José V Gavilondo's score ramps up the pace as Crespo's shimmering turquoise skirt swirls in flamenco-evoking joy.
Norge Cedeno and Thais Suarez's Hybrid also makes its UK première. A nightmarish melee of striving, rolling and writhing as 12 streetwise youths ruck and collapse under painful red lights and plenty of tossing of dreadlocks, ropes and plaits. Black socks, grey body suits and practical knee pads are the uniform of the day as the youngsters show great synchronicity.
Completing the programme are 2020 UK tour favourites: Paysage, soudain, la nuit by Sweden's Pontus Lidberg and De Punta a Cabo by Alexis Fernández (Maca) and Yaday Ponce.
Set against Elizabet Cerviño's wheatfield installation, lighting director Patrik Bogårdh moves Lidberg's jaunty celebration of youth from twilight to dawn as Leo Brouwer's iconic Cuban landscape with rumba (reworked by Sweden's Stefan Levin) incites perky loose-limbed Latin light-heartedness with snaky hips and plenty of fixed smiles to cluster into formations or breakaway for flirtations or sleep.
And the Latin heat is picked up in the delightful finale: De Punta a Cabo. The 2016 piece for the whole company is bolstered by interplay with the projected peopled backdrop as youngsters gather at the beach to party and party some more. There's en pointe, street dance and much salsa stripped bare against Havana's skyline.
A very pleasant evening.
Reviewer: Karen Bussell