101 Dalmatians
Music & lyrics by Douglas Hodge, book by Johnny McKnight, from a stage adaptation by Zinnie Harris, based on the book by Dodie Smith
Regent's Park Open Air Theatre
Regent's Park Open Air Theatre
–

Listing details and ticket info...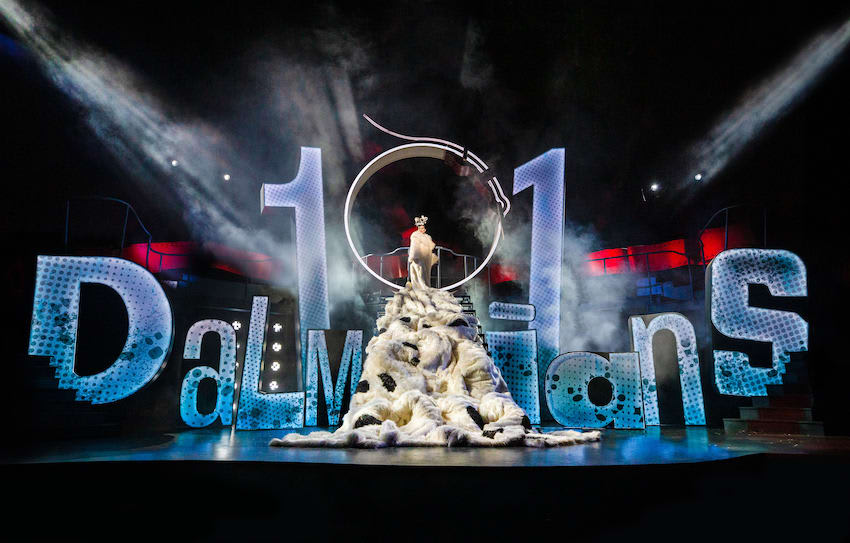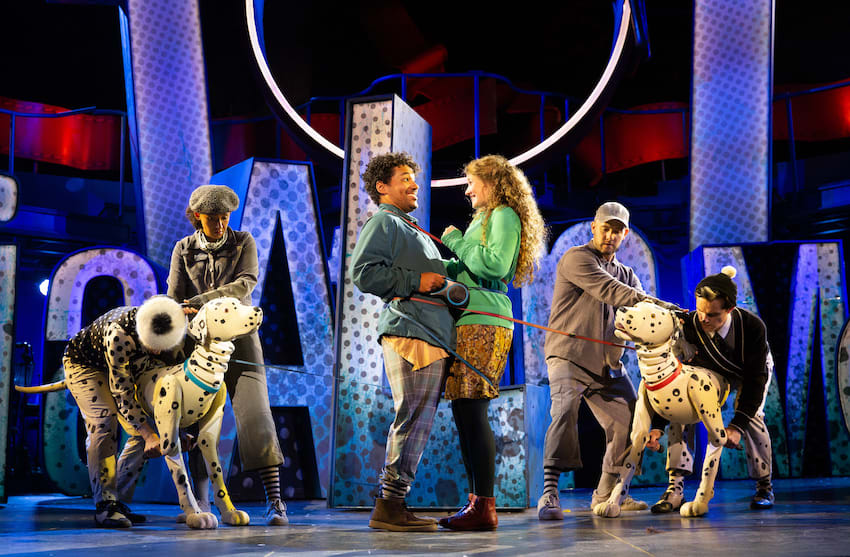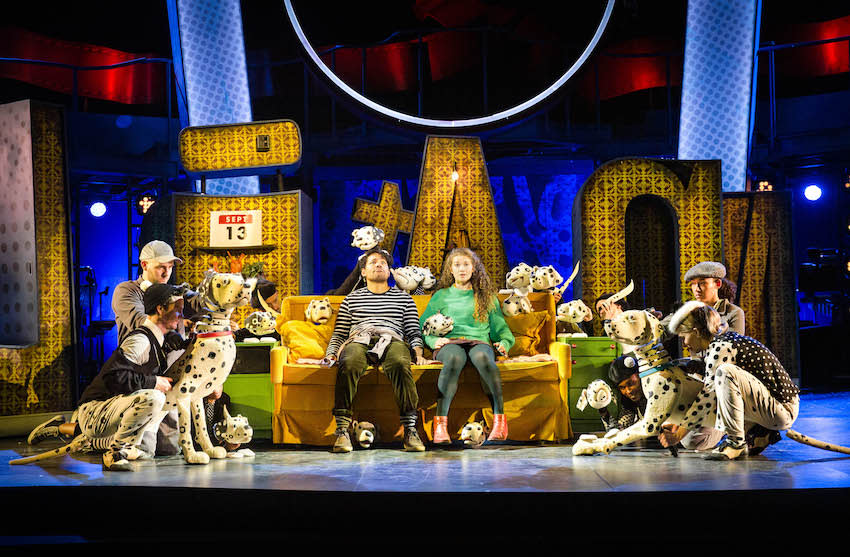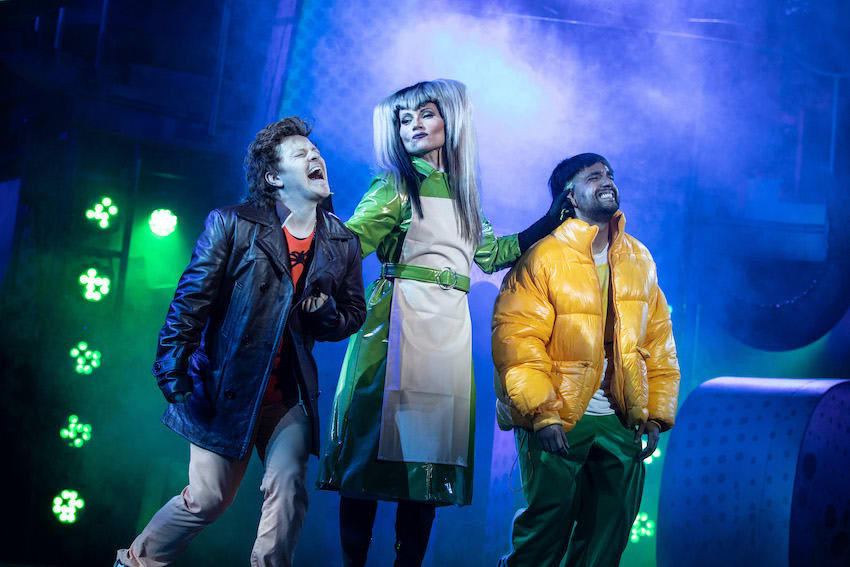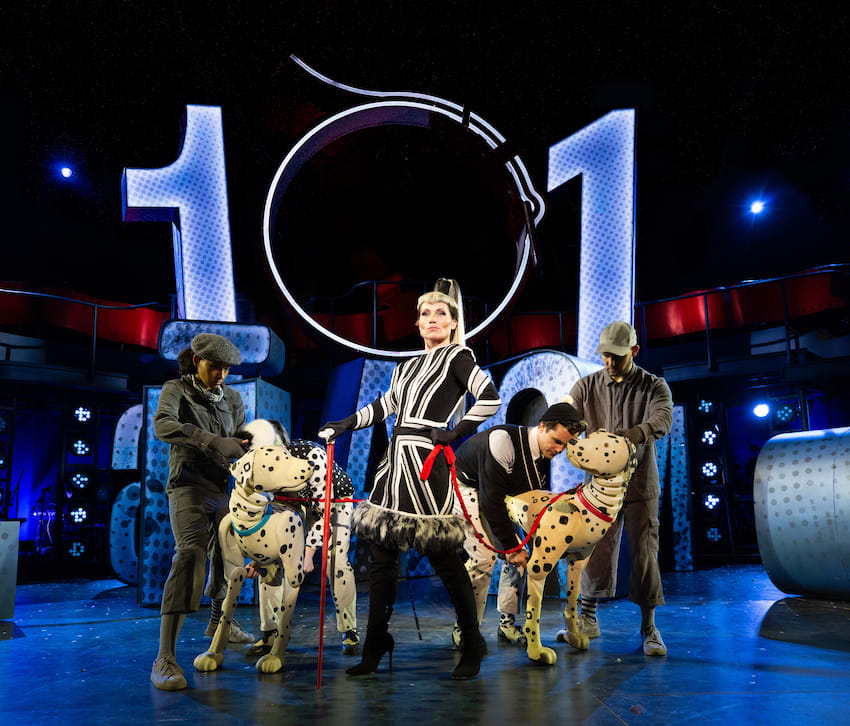 Dodie Smith and her original story have local connections, so it seems a good choice for Regent's Park. This musical version (like the Zinnie Harris adaptation it is based on) goes back to the original story, so don't go expecting the Disney version. It is a simple, very direct treatment, updated to make Cruella de Vil a self-styled "social commentator, political agitator—an influencer."
Far from Glenn Close's high society villainess, Kate Fleetwood makes her decidedly common in a delightful portrayal of wickedness as she lusts for an outfit of spotted Dalmatian skin to wear to the Black and White Ball. She wants to get her hands on enough Dalmatian puppies to make it.
She expects her orphaned nephews Jasper and Casper to do her dirty work, but they aren't really on her side. George Bukhari and Jonny Weldon make them misused innocents who can't resist the charm of a puppy called Linda.
No time is wasted in getting on with the story. Scene 1: Young couple Danielle and Dominic meet while walking their dogs; Scene 2: They move into a flat together. He's an artist, she's the main breadwinner; Karen Fishwick and Eric Stroud make them likeable but we don't learn much about them.
The dogs are much more important; things are seen from their point of view. To Pongo and Perdi, human kissing is "like sniffing bums but more discreet" and there are songs such as "Bury that Bone" and "Turn Round Three Times". Colin Richmond's set, made up of huge letters that spell out the title and turn around to suggest locations, is topped by a giant dog collar and a big red lead.
These main dogs are puppets, larger than life-size. Ben Thompson operates Pongo's head, Danny Collins is his rear end and voice, while Yana Penrose operate Perdi's head and Emma Lucia is her voice and her back end. Together they do a great job.
When their 15 puppies arrive, the stage seems to fill with the little fellers. They pop up everywhere and seeming to grow quickly. Handheld heads aren't so expressive, but tiny tails wagging become full of life. There's an older dog too, Bloodhound Captain: Stuart Angel is in charge of his head and he's well voiced by Tom Peters who, along with Cruella, gets the best numbers.
There are cats too, led by Grace Wylde's Tabby and quartet of youngsters as four puppies who escape Cruella's clutches, and the company turns itself into a pack of dogs recruited to come to the rescue the rest of them including a couple of fighting boxers and a pink tap-dancing poodle.
It's a simple story presented as bold theatre, and director Timothy Sheader seems to keep it continually moving. Dancing singers will appear to join in a song, or the set gets rearranged to make sure things are happening.
The songs are lively, though lyrics are often swamped, but not very memorable. You won't go home whistling them, but you will remember Pongo and Perdi; from sniffing nose to tip of wagging tail, they are splendid, though for a moment there is one more tiny dog who brings an even bigger smile to all in the audience.
Here at last, delayed for two years by COVID, this version of 101 Dalmatians won't make a list of great musicals but kids will love it.
Reviewer: Howard Loxton