Twelfth Night
William Shakespeare
National Theatre "Marin Sorescu" - Craiova (Romania)
Bath Shakespeare Festival Theater Royal, Bath
(2006)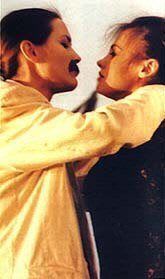 As You Like It will always have its admirers for whom it is one of the summits of Shakespeare. Me, I'm not one of them. The director Peter Brook got it right, when he wrote that the play was "too hearty; like an advertisement for beer - unpoetic and unfunny". No, give me rather the dying fall of Twelfth Night with its acknowledgement of loss as well as levity; pain as well as puns.
It's a combination - bitter sweet - which demands careful blending. Too far in pursuit of laughs and you paint out the play's chiaroscuro; venture too far into the shadows and you kill the comedy, as the RSC notably did five years ago.
What would Silviu Purcarete and the National Theatre of Romania make of the play? Bath, it seemed, wasn't that bothered, at least judging from the number of empty seats at the performance I attended, with even more available after the interval. Perhaps they hadn't read the rave reviews for previous productions by the acclaimed director. Or perhaps the idea of a Romanian take on Shakespeare didn't sound like a winning one. To be honest, I'm still not sure what to make of the production myself, days later.
For some reasons garden gnomes abounded in this Illyria, perched menacingly on the eaves of conservatory fascias à la Hitchcock. Were they a metaphor? An in-joke? And why exactly did Olivia reprise a routine by long dead British comedian Harry Worth, simultaneously rising from and descending to the stage courtesy of some unseen deus et machina?
The staging of Shakespeare by non-British directors can be revelatory. Ninagawa's production of Pericles two years ago was a personal highlight of my theatre-going. Here one felt the losses rather than the gains. I liked the decision here to cast Orsino as much older and sillier than usual, his servants having to assist his fleshy, dressing-gowned body squeeze through the doors.
Purcarete takes a knife to the text, resulting in a production which runs for just two hours with an interval. Gone are the songs, and gone too, much of the humour, Feste, Toby Belch and Andrew Aguecheek raising scarcely a laugh. A directorial decision or cultural incomprehension on Pucarete's part?, or that of the audience? I don't know. What I do feel sure about is that the decision to have Olivia roll around on top of Viola when it flies in the face of the text and to have Sebastian, her brother, played by a woman who rolls around Antonio is just plain wrong. The play, subtitled "or what you will" should not be taken as open licence for the sort of daft adaptations exemplified by Calixto Bieito.
For all my reservations, however, I was glad to have had the opportunity to see it. It was never dull. Wrongheaded certainly, but it was not without its charm and in its own odd way made fresh a play easily taken for granted.
Reviewer: Pete Wood