Twelfth Night
William Shakespeare
English Touring Theatre
Theatre Royal, York
(2004)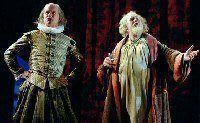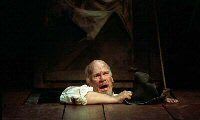 It seems impossible to escape from Twelfth Night at the moment - a new production seems to open almost every week. ETT is the nation's premier purveyor of first-class touring Shakespeare, and this version comes hot on the heels of their critically acclaimed King Lear and Romeo and Juliet. Two hard acts to follow, but the company has once again struck gold with their back-to-basics production of Shakespeare's greatest and darkest comedy.
"Dark" is the operative word here, and I should perhaps issue a word of warning to anyone expecting a barrel of laughs. Death, mourning, alcoholism, humiliation and madness are no longer generally considered to be the stuff of comedy, and too many directors tend to distract the audience by overloading the play with gimmicks or turning it into Malvolio's one-man Festival of Mugging (and if you had the misfortune to see the last RSC production you'll know exactly what I mean). Stephen Unwin has chosen to face the underlying sadness and cruelty of Twelfth Night head-on, for which all lovers of the play should be grateful. The great comic set-pieces shine all the more brightly when the sinister elements of the play aren't swept under the carpet.
The practicalities of touring have obliged ETT to make a virtue of simplicity, and Becs Andrews' set - a wooden platform, tapestry backcloth, image of a stormy sea and the bare minimum of furniture - allows the action to flow smoothly and helps us to concentrate on the well-spoken verse. I have to confess that I always feel slightly cheated when a Twelfth Night set doesn't include a tree in which the conspirators can hide, but the "love letter" scene is so beautifully played (with none of the overdone business that so often ruins the effect) that just for once I didn't miss it.
As is usually the case with ETT, the performances are excellent and every part is perfectly cast. Des McAleer's Malvolio may be "sick of self love" and full of his own importance, but he is not the grotesque figure of fun we are often presented with. There is nothing very outlandish about this gentlemanly steward fantasizing about marrying his employer - such misalliances were not unknown in Tudor England, and one can't help feeling that Malvolio would be a greater credit to the aristocracy than the drunken Sir Toby. Vanity is hardly the worst of the seven deadly sins, and we genuinely feel for Malvolio when he is treated like a lunatic and eventually storms off stage vowing to be revenged on his persecutors.
Michael Cronin (Sir Toby Belch), Susan Brown (Maria), Geoffrey Beevers (Andrew Aguecheek), Robert Lister (Fabian) and Alan Williams (a wonderfully wry Feste) all contribute finely judged comic performances. Orsino (Dugald Bruce-Lockhart) is not one of the most rewarding roles in Shakespeare, but when played as a Romeo who never went to the Capulet ball and remained infatuated with Rosaline he does well enough. Olivia (Catherine Walker), despite her protestations of grief, is endearingly keen to throw off her black gown and exchange it for something flowing in eau de nil. Georgina Rich makes her professional debut as Viola, and although her inexperience occasionally shows she manages to convey the character's mixture of innocence and resourcefulness. Gareth David-Lloyd makes the most of Sebastian's surreal transformation from shipwreck survivor to husband of a beautiful Countess - his reactions to Olivia's advances are a joy to behold.
In short, this is a Twelfth Night without frills, without pretentions and without the urge to make an over-familiar text "relevant" or novel. It's exactly what it says on the poster - Twelfth Night by William Shakespeare.
Peter Lathan reviewed this production at the Gala Theatre, Durham
Reviewer: J. D. Atkinson