Twelfth Night
William Shakespeare
R.J. Williamson Company: Nottingham Castle and Touring
(2004)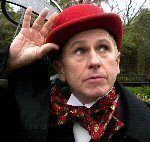 One of the highlights of any summer is watching the RJ Williamson Company, deservedly tagged Britain's largest and best-loved open-air Shakespeare organisation, performing as only they can in exquisite surroundings.
This year they've made a couple of major changes: instead of choosing a comedy and a tragedy, they've opted for two comedies, presumably in the hope of attracting more paying customers. And the company's founder Robert Williamson is appearing in only one of the plays.
It's doubtful whether Williamson's participation in Twelfth Night would have made a difference to the finished product which doesn't quite come up to the exceptionally high standards the company is noted for.
Despite that, it's still a robust production which has a lot going for it. And as in previous years the most radiant performances don't necessarily come from the actors who have top billing.
Siwan Morris is a delightful Viola who retains her charm as she tries to adopt manly poses when disguised as the servant Cesario; Anna Delchev is an effervescent Maria who gets the most out of the comic situations in which she's involved; and Penny Woodman's Olivia is tremendously passionate towards Cesario.
RJW veteran Jonathan Coope is perfectly cast as Sir Andrew Aguecheek, a caddish, nice-but-dim figure who earns the biggest laughs of the night. And Wayne Carter is officious, pompous and gullible enough as Malvolio to elicit no sympathy for his plight.
As for the stars, Wayne Sleep makes his return to the company as Feste. He showcases his skills at the start of the second half with a tap-dancing routine and his singing is commendable. However, he doesn't get the laughs nor the warmly enthusiastic response he received as Puck in A Midsummer Night's Dream for RJW two years ago.
Norman Pace, now establishing a reputation as an actor as well as a comedian, gives a solid if not ground-breaking performance as Fabian.
On the slightly disappointing side is the interpretation of Sir Toby Belch by Christopher Robert. Although he has a booming voice and ample stature, on the night I saw the play there were times when he didn't come over as a loveable old sot and in some of the scenes he didn't bring out all the humour of the character.
Co-directors Robert Williamson and Joyce Branagh have both worked on Twelfth Night before and they know the play inside out. They've tried to inject originality into the production by casting Sleep as Feste instead of a musician and inserting a boisterous version of The Twelve Days of Christmas.
It doesn't quite have the spark of previous RJW offerings but it's still an enjoyable evening with plenty to commend it.
"Twelfth Night" runs until July 30th before touring to Cannizaro Park, Wimbledon; Holland Park; and Leeds.
Reviewer: Steve Orme