Twelfth Night
William Shakespeare
Arden Theatre Company
Arc, Stockton
(2006)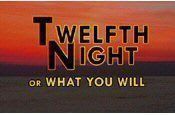 This is a very dark Twelfth Night, full of characters who are completely self-obsessed: Orsino, petulant because he can't have his own way; Olivia whose self-indulgent mourning turns to roaring lust for the boy Cesario; Toby Belch, determined to squeeze every last penny out of Andrew Aguecheek and full of spite against Malvolio; Aguecheek himself, almost moronic in his self-delusion; Maria sharing Sir Toby's spite; Malvolio, truly "sick with self-love"; Feste both enigmatic and vengeful. Only Viola emerges without stain.
The set is dark: a dark gauze behind which flicker many candles forms the back wall, broken only by a large set of double doors whose frame echoes the large picture frame above, in which some of the central characters appear, portrait-like, at significant points in the play. The lighting is deliberately patchy, emphasising the darkness. There is original music from Thai composer Thanatip Viturawong, played by a four-piece band, which reinforces the mood.
As in Arden's previous productions, director Robert Icke brings an innovative intelligence to the piece, creating some startling moments. A moment of boyish horseplay between Orsino and Cesario almost becomes an embrace. As Feste sings "Come away, death", sitting together on a sofa, they almost imperceptibly lean in towards each other until their heads are just short of touching. Olivia slips off her black mourning dress and, in red underwear and black stockings and suspenders, throws herself on Cesario.
Nor is the latent homoeroticism of the play in any way glossed over. Not only is the attraction of Orsino for the "boy" Cesario overt, but Antonio's passion for Sebastian could not be clearer.
And then there is the enigmatic figure of Feste (played by Icke himself). This is no clown in the traditional sense: rather he carries with him an air of what is almost menace as he moves between the two households.
The performances are excellent. Newcomer to the company Hannah Morrison makes a totally convincing Viola/Cesario. She has a tremedously expressive face and convinces both as boy and girl. Fiona Sibbald's Olivia is feisty and seductive and Andrew Berriman conveyed exactly Orsino's incredulity that he cannot have his own way, something which he obviously has always had. Daniel Hill, whose comic talent was so obvious in the company's Dream, again reinforces that impression with a Toby Belch of greater than usual depth.
Another newcomer to the company is Alastair Roberts as Andrew Aguecheek: he avoids the over-the-top foolery into which actors sometimes fall when playing this character and gives us a glimpse of the pathetic human being beneath .
Josh Mason's Malvolio is a wonderful creation. Shorter than usual - in fact, probably the shortest man on the stage - he dominates his scenes, even in his discomforture when Sir Toby attacks him in the "cakes and ale" scene.
As we have come to expect from Arden, this is an unusual "take" on the play, carried off with great energy and subtlety. From the shipwreck scene in which the words of the captain are split up and given to Orsino's attendants who crisscross the stage sheltering under umbrellas, to the final scene where, as Feste sings, Sir Andrew and Malvolio leave Illyria, there are far too many nice touches to mention in a short review. Twelfth Night is, like the Dream, one of the most performed of Shakespeare's plays, to the extent that sometimes we feel "Oh no, not another!", especially whene performed by a company whose oldest member is 21. To miss this, however, would be to miss an enjoyable and perceptive insight into the familiar.
"Twelfth Night" runs at the Arc until Saturday 16th September.
Reviewer: Peter Lathan