Twelfth Night
William Shakespeare
Chichester Festival production
Chichester Festival Theatre
(2007)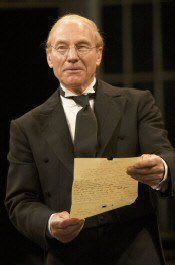 With the alternative title What You Will Shakespeare seems to be letting his actors/audience decide the dominant theme of this play. It could be comedy, a love story, or the heartbreak of bereavement. The comedy of the trick played on Malvolio loses its humour with the severity of his punishment, and love is in the air but a strange love which settles where it will and then changes its mind. Bereavement is dealt with mostly by a newfound love - a play of contrasts and conflicting emotions.
Shipwrecked Viola believes she has lost her twin brother in the storm, Countess Olivia is mourning the death of her father and brother, and the gloomy introspective Duke Orsino is depressed because the love he has for Olivia is not reciprocated. The opening music begins with a deep, mournful sigh - Elgar's Sospiri.
Director Philip Franks has taken on board all these aspects and set his production in the early twenties, a time soon after the First World War when many were suffering the loss of a loved one and when there were still large houses being run by servants, class distinction being most important among those below stairs. Steward Malvolio and waiting gentlewoman Maria would be of similar status, leading to Maria's attempt to humiliate her rival by a trick which convinces him that the Countess could love him.
Patrick Stewart is the most credible Malvolio I have ever seen, an unbendingly correct Scotsman and disapproving of those he considers beneath him, he changes to ingratiating smiles when he thinks this will please his 'lady' and is especially comical when kilted and with cross-gartered yellow-stockings he accidentally ties his knees together. Trying to exit with dignity he is confronted by stairs. It could happen to anyone! His abject distress when incarcerated in darkness and his vengeful fury when finally released do not bode well for the future of his tormentors. He certainly sent shivers down my spine.
Severely dressed Maria (Suzanne Burden) appears serious and conscientious, but not above a little light hearted revelry, cavorting noisily with Olivia's aristocratic uncle Sir Toby Belch (Paul Shelley), a man rather too fond of wine. women and song. Even the normally ridiculous Sir Andrew Aguecheek seems a perfectly plausible character, in spite of his penchant for occasionally prancing about like an athletic, over-enthusiastic puppy.
Laura Rees is Viola, and a delightfully eager to please young boy when disguised as Cesario. For once I could understand how Orsino could mistake her gender (in spite of their kiss) and homosexuality too is touched on with her twin Sebastian (Ben Carpenter) and the sea captain exchanging kisses when parting at a railway station, causing shocked giggles from the women boarding the train.
The whole is played out against a backdrop of floor to ceiling mullioned windows and doors (Leslie Travers's design) with the floor of the stage an indeterminate sandy shore, and props (thankfully few) descending from above. Everything is watched by Michael Feast's Feste, the entertainer who turns up everywhere and, despite his capering fool's antics, seems wiser than those he entertains, and world weary as if he has lived a long time and seen it all before.
The twenty strong cast are also appearing in Macbeth in the Minerva theatre - two very contrasting plays in two very different venues - and the quality of performance in both plays is equally outstanding.
A most intriguing and absorbing production with every character completely realistic, and Feste finishes with a song – this time to the music of Matthew Scott - concluding with "the rain it raineth every day" – and with this summer isn't that the truth!
Reviewer: Sheila Connor