Twelfth Night
William Shakespeare
The Faction Theatre Company
Tabard Theatre
(2009)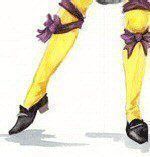 Innovative? Yes. Entertaining? Sometimes. While The Faction's Twelfth Night is in keeping with this company's commitment to staging the classics with a twist, comedy and storytelling often take a back seat.
A quick survey of The Faction's past productions demonstrates director Mark Leipacher's affinity for reformulating the classics. Examples include an exclusively male Macbeth and a prop-less Richard III, featuring ensemble-generated thrones, horses and all things atmospheric.
Leipacher's Twelfth Night is in line with this tradition: the production literally revolves around a grand piano with actors adeptly scaling the ivories and wielding instrument legs in comic duels. Given Twelfth Night's famous opening line "If music be the food of love, play on", this conceit makes strong metaphoric sense.
So where does it all go off key? Leipacher's penchant for undeniably innovative staging seems to come at the expense of good old-fashioned storytelling. And let's not forget, Twelfth Night is the Bard at his narrative best.
Here, Shakespeare blends his regular role call of comedic high-jinx (gender-bending, mistaken identity etc.) with a perfectly crafted thematic underbelly. Our shipwrecked heroine, Viola, struggles with grief over the apparent loss of her twin brother while posing as a page to the dashing Duke Orsino. A love triangle ensues as Orsino is besotted with the countess Olivia (or perhaps he's just in love with love itself). For her part, Olivia (also grief-stricken by the loss of a brother and, consequently, our heroine's perfect foil) soon forsakes her mourning weeds to crush on Cesario (Viola in girl-gone-page-boy drag). Add to this an uptight manservant and two deliciously fun-loving drunkards, and the stage is set for good times Elizabethan style.
In The Faction's Twelfth Night, however, a full act passes before any significant fun ensues. This can be chalked up, in part, to Leipacher's carelessness in establishing key character relationships. At times, his act one clips by too rapidly, glossing over major moments including Viola's realization that "She loves me, sure". Moreover, it seems doubtful that this Viola (played here by Amelia Clay) is interested in much as her relationship with Orsino reads more like dutiful apathy than clandestine passion.
Where the lovers' storyline lacks detail, act one's comic relief lacks drive. Leipacher's direction of the usually delightful interludes featuring Sir Toby Belch (Tom Shaw) and Andrew Aquecheek (Alexander Guiney) is heavy-handed, erring too far on the slow and sleepy side of alcoholism. And when our beloved drinking buddies finally find themselves roused to action, the performances read more like a trip to George and Martha's than comic romp.
This can't all be blamed on the direction, however. While Tom Shaw's Sir Toby isn't completely devoid of comedy (his reference to pickled herring-induced flatulence is oddly irresistible), this actor lacks the weight to fully nail Shakespeare's most enigmatic inebriate. Instead, Shaw goes over the top when playing the drunk, which, ultimately, adds a self-conscious quality to his work and subverts the play's comedy.
This said, act two gets better much better in fact. From the outset the direction and performances seem far more in tune with the comic runway ahead. As Malvolio, Daniel Millar is every bit the servant-cum-Casanova in his yellow stocking clad plight to seduce Olivia. Kate Sawyer has great fun here too, letting go of Olivia's seemingly impenetrable grief in favour of giddy adulation-born glee. Even the drunks hit their comic stride, with Toby's taunts to Malvolio and Aguecheek's unfortunate boxing skills on full farcical display.
Unfortunately, despite its innovative theatrics and some adeptly articulated performances (including Mark Leipacher's love sick Orsino and Gareth Fordred's deliciously cheeky take on Shakespeare's all-knowing observer in fool's clothing, Feste), The Faction's Twelfth Night struggles to overcome a clumsy act one. Nonetheless, should you find yourself in Turnham Green at half-eight, it wouldn't hurt to grab a pint at the Tabard Pub and head up to the theatre. As the lights dim for act two, this production takes flight.
Touring to Brockley Jack Theatre from 12th October to 24th October
Sandra Giorgetti reviewed the production on its transfer to Brockley Jack
Reviewer: Melissa Poll