Twelfth Night
William Shakespeare
Filter Theatre in association with the RSC
Tricycle Theatre, Kilburn
(2010)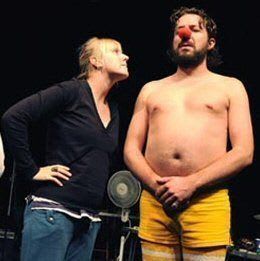 Stripped back, pared down and with a carefully jumbled set consisting of musical instruments and electronic equipment strewn all over the stage, this is a Twelfth Night like no other. In 90 minutes Filter deliver the pure essence of the play with minimal fuss but maximum noise.
The opening scene consists of a jamming session (which is cruelly interrupted by a mobile phone ringing) and this theme of structured improvisation continues throughout the piece with both Feste and Malvolio taking to the mic. Information is imparted through radios and speakers and a rattling tea cup warns of the impending storm that will bring Viola and Sebastian ashore.
Poppy Miller makes for an instantly likeable Viola (and Sebastian) borrowing men's clothes from members of the audience and rolling up socks to stuff down her trousers. As Thursday was also election night she cheekily emphasised the line "Who governs here?" by producing election leaflets from her jacket and shifting through them in a confused manner.
Ferdy Roberts is hilarious in his 'cross gartered stockings' with a mix between sexual confidence and sleaze whilst conveying an underlying violence and harshness that many Malvolio's choose not to display. In this production Maria's revenge has very clear motive.
The play would not be complete however, without Sir Toby Belch and Andrew Aguecheek and Oliver Dimsdale and Jonathan Broadbent do not disappoint. Their nocturnal partying scene is an absolute joy and brings a sense of carnival to the whole theatre with audience participation and plenty of pizza! When Malvolio interrupts the proceedings the audience share as much of the weight of the reprimand as the characters.
The outbursts of joy in this production demonstrate the madness and sexiness of the original play but also serve to lay bare the immense cruelty of the piece. This juxtaposition secures the production as more than just an abridged version despite its shortness.
For purists this is perhaps stripped back too far and for newcomers to Shakespeare although exciting may be slightly confusing - particularly in the final scenes. However, this carefully constructed piece has been revived because of the sheer sense of anarchy that it highlights and the ingenuity with which this classic play has been approached.
Allison Vale reviewed this production on tour at Bath Theatre Royal
Reviewer: Amy Yorston