Twelfth Night
William Shakespeare
Nottingham Playhouse
(2010)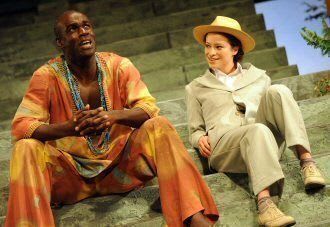 Shakespeare's comedy about mistaken identity and misplaced love has had more makeovers than an ageing actress. But if you thought Twelfth Night couldn't possibly be done in a new way, think again.
Director Paulette Randall and designer Libby Watson have relocated Illyria to Brazil. They even went to Pelourinnho, the colourful old town of the former capital Salvador, to ensure authenticity.
Having seen how some directors have focused their attention too much on a concept at the expense of Shakespeare's language, I approached this production with a certain amount of trepidation.
I needn't have worried. The Brazilian theme, while evident in the atmospheric yet unostentatious set, is never allowed to suffocate actors or action. Dancing and Latin American music are kept to a minimum. It gives a taste of Brazil without overpowering the senses.
A 12-strong cast of mostly black actors perform Twelfth Night with passion, enthusiasm and humour.
They jettison any stereotypical ideas of the characters and while there's no standout performance, they give a series of well-honed, impressive portrayals.
Rebecca Herod is a delightful Viola, her boyishness when disguised as the manservant Cesario never subduing her feminine charms.
Steve Toussaint is sufficiently aristocratic as Orsino, looking fashionable in his multi-coloured suit and exhibiting intense emotion despite being rebuffed by the object of his affections.
Tracey Saunders as Olivia initially doesn't appear to be sad enough while she's mourning her brother but she gives a much more commendable performance after her introduction to Cesario.
David Webber loveably clowns around as Sir Toby Belch although he sometimes gives the impression he's not totally comfortable with his lines, Nicholai La Barrie is an upright yet incorrigible Sir Andrew Aguecheek and Velile Tshabalala is an impressive Maria with an infectious laugh.
Marcus Powell's Malvolio is haughty without being unapproachable; he has a sense of dignity about him which almost makes you feel sorry for him when he finds out Olivia's love letter to him is a fake.
Curtis Jay Cole comes alive as Sebastian when Olivia mistakes him for Cesario; his look of bemusement which turns to ecstasy is an absolute delight.
The actor who almost steals the show is Sean Shote as Antonio. It's the first time I've seen the character portrayed as being camp and having a crush on Sebastian. The scenes between the two of them provide some of the most hilarious moments of the evening. All credit to Paulette Randall for spotting the potential of the role and Shote for carrying it off.
A few minor points: very occasionally some of the actors don't capture the complexities of Shakespeare's language; the fight between Cesario and Aguecheek is neither authentic nor funny; and the introduction of capoeira, an Afro-Brazilian art form combining martial arts and dance, seems not to serve any logistical purpose.
On the whole, though, this production of Twelfth Night is a joyous evening's entertainment. It has an interpretation that will appeal to modern audiences while at the same time retaining Shakespeare's mellifluous language which will satisfy purists.
"Twelfth Night" runs until October 16th
Reviewer: Steve Orme