Twelfth Night
William Shakespeare
Unicorn Theatre
(2008)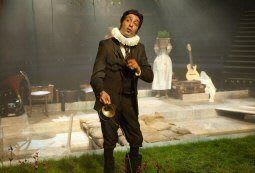 Rosamunde Hutt's delightfully high spirited production of Shakespeare's comedy of melancholic love and punctured pride is abridged to suit its young audiences and to match the resources of the Unicorn's six-strong ensemble of actors but it still runs for two hours plus interval. That's partly because there is additional material using pertinent descriptions about each character to cleverly establish the cross gender casting and doubling of roles, and inserted songs and business for the move from scene to scene, not for scenic reasons but to cover the change of costume from role to role. They do fractionally hold up the story but they also accelerate the pace and their humour was thoroughly enjoyed by the schools audience I was with, some of whom were singing one of musical director Matthew Bailey's tunes as they left the theatre.
This is an in-the-round production - the first time I have seen the Unicorn's larger Weston auditorium used in that way, with seating banks from its smaller theatre used to mirror the permanent seating and complete the circle to make an excellent performance space.
Lou Wilson's setting has an indoor/outdoor feel with an arc of ill-kempt lawn and a garden pond with a sandbag dam across it and a makeshift board bridge, a tree hanging inverted overhead and a very indoor looking chaise longue. I am not sure quite what we are to read from its topsy-turviness. Has Olivia's mourning interrupted a garden landscape project? Is it a reminder that Illyria was recently a war zone? The pool nearly provides Viola with a watery grave for the shipwreck scene and then becomes a depository for apple cores and other rubbish. It's not elegant but, like the relaxations and reversals of traditional Twelfth Night festivities it matches the irrationalities and riotousness of these characters.
The look-alike twin brother and sister are played by one performer - beautifully established when John Cockerill takes off his male jacket to reveal a bustier style bodice beneath. When this Viola disguises herself as Caesario she simply puts on the jacket and a cap, when being her brother Sebastian the only change is to remove the cap - and just in case the audience don't get it,there is always something to make them realise the change of role.
All the other actors double too. David Smith's languid, guitar-playing Orsino is also a nimble-shanked, more than usually confident Andrew Aguecheek; Julie Hewlett's Olivia - in elegant black-mourning for her brother but twinklingly alive - turns up as an officer, Géhene Strehler's is Olivia's gentlewoman Maria and her clown Feste, Samantha Adams, cross-gender as a Caribbean Sir Toby Belch appears as one of Orsino's Courtier's and Amil Sharma doubles steward Malvolio, aspiring to higher station by marrying his mistress with sea captain Antonio who has genuinely fallen for young Sebastian.
It is vital to the plot that both twins appear together and this is indicated very simply by using Caesario's cap and some hand mirrors, though it means one misses the full impact of that magical moment when brother and sister believe it is really true and are reunited. But this is a production that gets on with things rather than savouring the moment or, for that matter, the verse, though it is clearly and intelligently spoken. It misses some of Shakespeare's tongue-in-cheek approach to love but offers a lively romp that obviously suited its audience of pre and early teens.
Orsino's 'If music be the food of live' actually becomes a song (though I felt it went on a snatch to long), and some of the songs Shakespeare provided are used to new purposes, sometimes producing a surround-sound effect with actors moving around the auditorium that makes one feel there are many more of them, or with Orsino/Aguecheek on a gantry above the stage. This is a long way from old fashioned 'class-room' Shakespeare and one may hope will be effective in creating audiences for the future.
Until 7th June 2009
Reviewer: Howard Loxton