13.1
Mike Kenny
Part of the BUPA Great North Run Cultural Programme
Live Theatre Studio, Newcastle
(2009)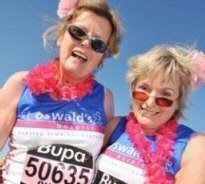 13.1 miles is the length of the BUPA Great North Run from Newcastle to South Shields which takes place this coming Sunday. Sisters Alice (Sonia Beinroth) and Diane (Vicky Elliott) are taking part, raising money for cancer research in memory of their mother. Alice loves running: Diane hates it. Alice is the hare, Diane the tortoise. Inevitably Diane is late but they get started.
A re-telling of the Aesop fable? Well, that would be telling. What it is is a short (50 minute) piece of gentle comedy aimed at a family audience which nonetheless mercilessly anatomises the lives and relationship of the sisters as they run (jog... walk...) those 13.1 miles, through conversation, argument and flashback, plus a bit of video to establish where they are in the Run.
Kenny plays with theatrical convention cleverly, especially in the flashback sequences, and having the audience on two sides allows them to be treated as spectators, which enabled Elliott at one point to pick out the Run's founder, Brendan Foster, as the target of an appropriate comment.
Although Beinroth and Elliott don't expend quite the energy they would have if they'd been actually taking part in the Great North Run, they certainly use a lot, for they are on the move almost constantly. Add this to the energy any actor uses in any production and you have two pretty impressive performances. They are well supported by Jim Kitson who pops up occasionally throughout as various musicians.
It's a very funny piece - with a bite.
Reviewer: Peter Lathan