1800 Acres
David Mayer
Riverside Studios
(2008)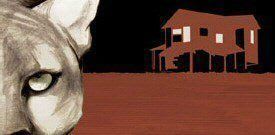 Selling her house on Brooklyn Heights has made Afro-American Linda rich.
To distance herself from her ex-husband, and get her teenage son away from the drugs and crime to which he has become exposed at school, she has bought a ranch in Texas. Unfortunately, the previous owner still thinks that it is his; no one has told him that she has acquired it by buying out his debts plus a modest arrangement fee.
This play, developed with the Old Vic New Voices scheme, begins with an enigmatic figure in a Stetson standing with a spade. Then, after a long blackout, Chris, the previous owner, and hired-hand Augustus, who knows about the sale but has not mentioned it, are found playing cards. When Linda and son Jacob arrive there is an immediate set-to, not just between two people who both think they own the place but country versus city, white versus black and Southerner versus Yankee.
The Stetson figure recurs but appearing to each in a different persona: as her ex-husband to Linda, who is missing him sexually, to Jacob, who sees his father very differently, to Gus and also to Chris as his own father, while Gus also conjures up a masturbatory vision of Linda. Each sees something they are missing. There's a cat called Beans that Jacob befriends: 'Is it because she farts so much?' he asks, for this is a play that mixes comedy with confrontation. And there is a Mountain Lion about that makes it dangerous for Jacob to perform a ritual he has invented for himself outdoors.
Jörg Tittel's set suggests the wide open spaces with telephone cable stretched across the stage against a blue sky and minimal furniture on a sand covered floor, the ranch house identified by a change in level and a doormat which does not help a scene where a wall has to be broken down because Chris has deliberately befouled it. By placing several scenes at the far edges of this wide acting space, director Alex Helfrecht has produced poor sight lines for some of the audience and made them difficult to light and, though needed perhaps to get her actors on and off, some blackouts are so long as to be counter-effective, but she gets good performances from her actors. Kathy Tyson and Tobi Bakare have established a believably awkward mother-son relationship and Tony Boncza suggests a man only too aware of what has been missing from is life as Gus, eager to forge new bonds with Jacob. Mark Field's Chris has to cope with complexities of character that the script leaves too much to the actor, but does his best with the material he has.
This a play that, in this production, seems to promise more than it delivers. It touches on our relationship with the landscape and our origins but with its fluid movement between reality and a symbolic fantasy could surely have allowed its characters to explore this more fully.
Ends 12th October 2008
Reviewer: Howard Loxton