1936
Tom McNab
Attic Theatre Company
Arcola Theatre
(2010)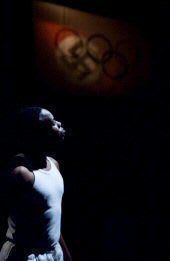 1936: this was the year when Hitler and Goebbels turned the Berlin Olympic Games into a propaganda exercise for the Third Reich; the Games at which black athlete James (Jesse) Owens won four gold medals, cocking a snook at the Fuehrer's racist policies; the Olympiad that Leni Riefenstahl glorified in her famous film.
Designer Kevin Jenkins rings his set with the flags of the competing nations but this isn't a sportsfest. This play is not competing with that film. It's about the lead up to the games and the politics behind them.
Hitler wasn't interested in sport. When he came to power he didn't see the point of spending millions hosting the Olympics, which had been awarded to Berlin three years earlier. At the same time the treatment of Jews under the Nazi regime was becoming known and there was pressure, in the United States especially, to withdraw from the Games in protest and because the treatment of Jewish athletes was clearly in conflict with the Olympic ideals.
Using the framing device of a (real) US journalist looking back from 1948, when he is covering the Berlin airlift, to events from 1931-4 we eavesdrop on Hitler's conversations with propaganda minister Goebbels, discussions between members of the Olympic international and national committees, Jesse Owens in training, a Jewish high-jumper forced to train in England and on Riefenstahl planning her movie.
Although some public events and speeches presumably are well documented, the private scenes must be largely the dramatist's construct but the have a feeling of veracity that makes this feel like a verbatim drama, emphasised by the use of Jim Creighton's journalist as presenter. Of course, we already know the outcome so there is no 'will they- won't they' to provide dramatic tension. Instead we become engaged by the often self-interested and blinkered arguments used by the sport bureaucrats and the glimpses into the private world of public figures. In a telling criticism of US society McNab draws attention to the way those so sensitive to Jewish issues in Europe turned a blind eye to the treatment of America's black citizens.
Jennie Lee has delivered a smooth running production in a set that uses sports apparatus and simple outdoor furniture for a series of intimate locations with characters often emerging from a brightly lit haze. Almost everyone is playing two or more roles but all are clearly characterised. Tim Frances and Chris Myles make Adolf Hitler and Joseph Goebbels an intriguing double act (the propaganda minister promising his leader exactly what he wants), Jonathan Battersby both a high court judge, who invites Owens for a meal then gets out of it because it wouldn't do in his all-white club, and Jesse's coach at a college that wouldn't give blacks a sport scholarship.
Kate Cook is the enthusiastic Riefenstahl, fascinated by muscular men - and women (though those she chose for her film's opening sequence look skinny compared to the pumped up bodies of to day). Peter Harding is the head of the American Athletics Union who, bowing to personal interests, switches from boycotter to enthusiast for the Games and David Baron gives us both a German Olympics organiser with Jewish family and the French President of the International Olympics Committee. In two finely staged slow-motion sequences, beautifully executed by Rolan Bell as Owens and Josie Taylor as high-jumper Gretel Bergmann, Lee captures the thrill of athletic achievement, albeit not here in competition.
Would history have been different if the US had staged a boycott? It is a question the play poses and that can be pursued in the latter part of the evening when, after a short break, and the showing of brief extracts from Riefenstahl's film a discussion follows. It is led by McNab, himself an Olympic coach, and features members of the cast and eminent athletes - on press night they included high-jumper Dorothy Tyler who won Silver at those very Olympics and as a sixteen-year old had been well aware of the tensions surrounding the event, not least because of the armed soldiers who seemed to be present everywhere they went in Berlin in 1936.
Until 24th April 2010
Reviewer: Howard Loxton