1984
George Orwell; a new adaptation created by Robert Icke and Duncan Macmillan
Almeida Theatre, Headlong and Nottingham Playhouse
Almeida Theatre
–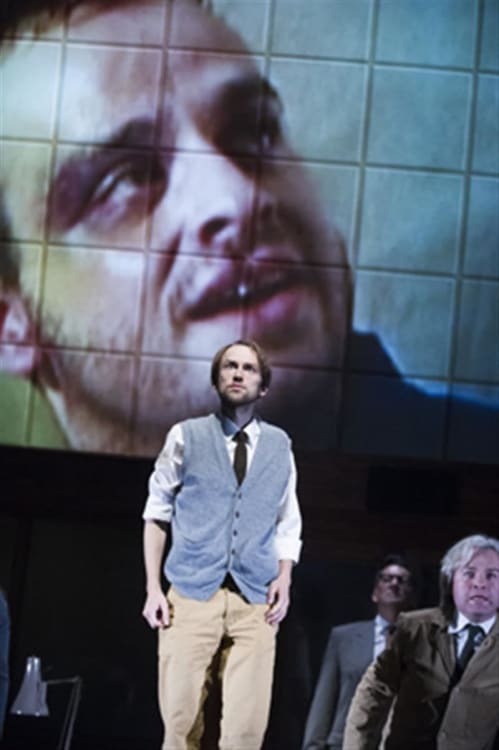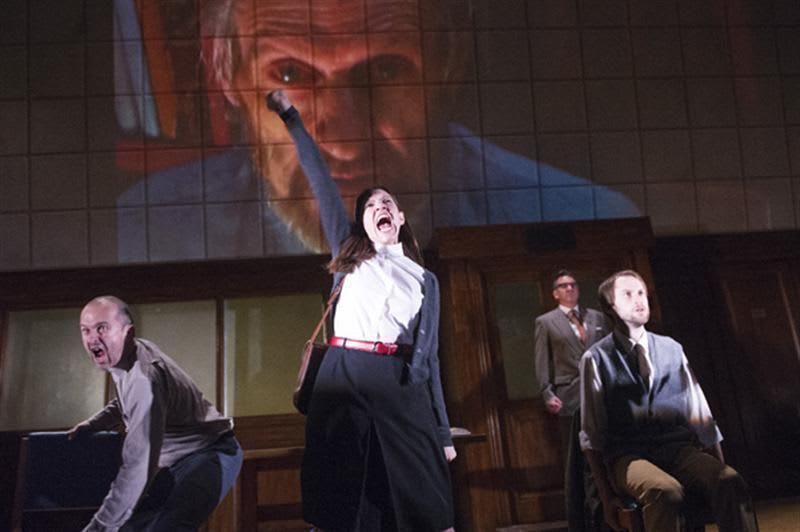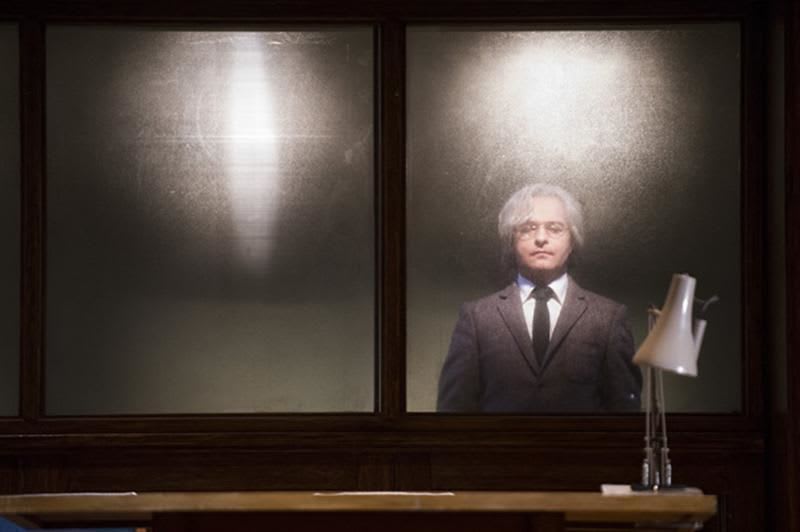 The ideas of surveillance, conformity and "Big Brother", which are at the heart of Orwell's novel, are now part of cultural background even for those who have never read the novel.
Attempting to make a stage adaptation of it when we see many of the things that Orwell wrote about established as a part of modern life with its CTV cameras, Internet interceptions and even television programmes called Big Brother and Room 101 poses quite a challenge.
This staging by Robert Icke and Duncan Macmillan takes a fresh and theatrically effective approach that goes far beyond warning of the dark shadow of totalitarianism but seems to be asking wider questions of what we should believe. By opening it with a seminar of academics, among whom appears Winston Smith, protagonist of the novel, whose diary they are discussing, this questions reality from the start.
Is he there because it is a scene he is imagining? Is someone among them imagining himself as Smith? Logic breaks down but it sets a pattern undermining trust in information as it moves into the presentation of Winston's personal rebellion against the orthodoxy of the Big Brother world.
Concentrating on the main events of the novel, recycling moments to emphasis the unreliability or lack of memory, switching locations without changing scene and seemingly always overlooked by others let alone by cameras, it builds strange tensions. When cameras do come into use, it is the audience that is the remote spectator, as an intimate scene is played out on screen from the one place that Winston and his lover think is without one.
Watching creates an identification with Winston but, as the situation becomes extreme and violent, the production creates a withdrawal into being spectators not comrades, almost like its protagonists who want this to happen to someone else rather than them.
Mark Arends and Hara Yannas don't turn Winston and Julia into heroes, they play them as ordinary people. Neighbour Parsons (Gavin Spokes) could be out of Eastenders, which makes his acceptance of state control even of his thoughts even more frightening. The eccentricity of Stephen Fewell's bookseller Charrington may hide state compliance not unorthodoxy and there is a sinister blandness about Christopher Patrick Nolan's Martin and Matthew Spencer's Syme that all give a chilling reality to this world of thought control where a child can denounce a parent.
Tim Dutton's power-wielding O'Brien, one of the controlling cadre, a claret drinking separate caste, would seem blandly ordinary at first, if you had not observed him earlier observing, and his urbanity as he inflicts horrors makes him the more appalling.
Both Winston and Julia appear to survive and the framing based on Orwell's appendix, which writes of Newspeak as something of the past, suggest a future when the regime of 1984 has passed, but that may be a fiction too. Don't trust in anything as true is a pretty shattering idea to grapple with, even beyond the other warnings that Orwell was writing more than sixty years ago about techniques that we now live with.
The freedom of the Internet, it has been suggested, makes it impossible to suppress people as in Orwell's Oceania but don't be so sure—it is matched by surveillance procedures that make it much easier to identify the rebel and the revolutionary and remove them.
Orwell's great fiction is still relevant and too real and this production has a disturbing truthfulness about it.
Reviewer: Howard Loxton