1984
Robert Icke and Duncan Macmillan
Headlong, Nottingham Playhouse, Almeida Theatre
Grand Theatre, Blackpool
–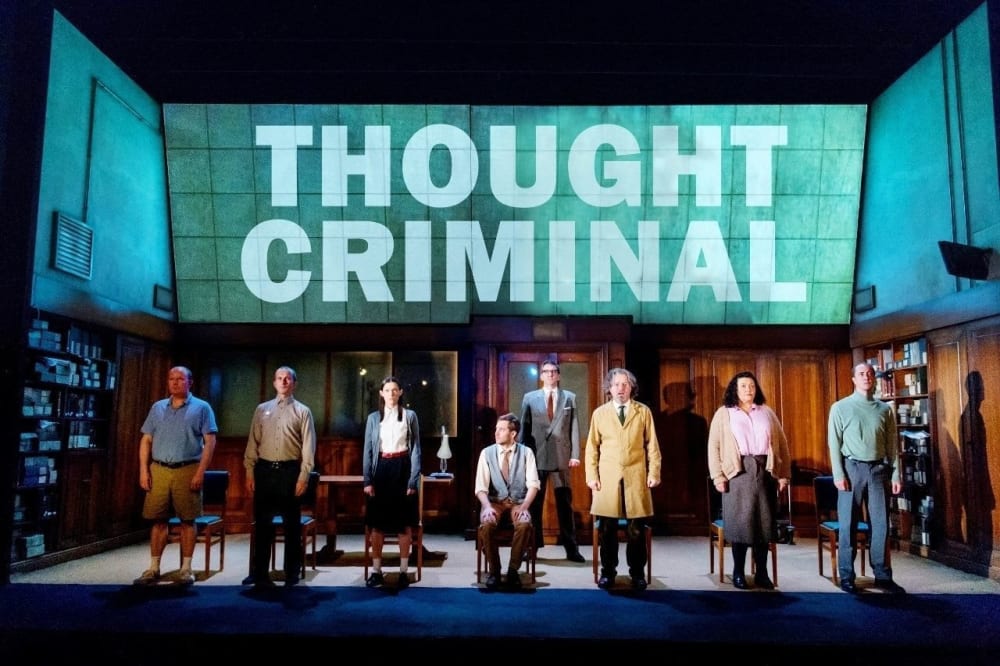 No matter how contemporary someone strives to make their performance of 1984, nowadays the week's news always seems to go one better...
At war with a new enemy; curbs on 'extremism'; mass protest against State control?
Meantime the year itself appears to have been on continual rewind, with at least one new theatre production annually.
All of which sets up an instant challenge for this latest stage adaptation, by Robert Icke and Duncan Macmillan, one it confronts head-on to deliver probably the closest experience that theatre audiences will ever get to George Orwell's nightmare vision of a future. It's not one for the squeamish.
The author's novel is placed at the heart of a library reading room's book club discussion, sometime in the future. It creates an immersive effect in the text itself that is further enhanced by vivid use of live digital photography, and the quick-cut editing style of scenes—more common in the cinema than the theatre.
Indeed some of the most effective moments are performed off-stage, in the intimate bedroom setting where Winston Smith and his partner Julia think they are safe from Big Brother's prying cameras, only for their privacy to be beamed widescreen to the eavesdropping theatre audience.
All of the essential ingredients of the book are reconstructed, not necessarily in the order you may remember, to build into a shattering dramatic effect. Lighting and sound are especially effective and Chloe Lamford's set design cleverly and slowly disintegrates from a dowdy library room towards a clinically-futuristic Ministry of Love. The torture scenes there are particularly graphic.
Matthew Spencer makes a believably troubled Winston, while Janine Harouni, as Julia, makes her professional stage debut seem effortless. Caught in cinematic close-up she conveys all the anxieties of a woman in love and in turmoil.
The joint production is on its second national tour after two successful runs in the West End. It is a year you will never forget.
Reviewer: David Upton