1984
George Orwell, adapted by Robert Icke and Duncan MacMillan
Headlong and Nottingham Playhouse Theatre Company
Liverpool Playhouse
–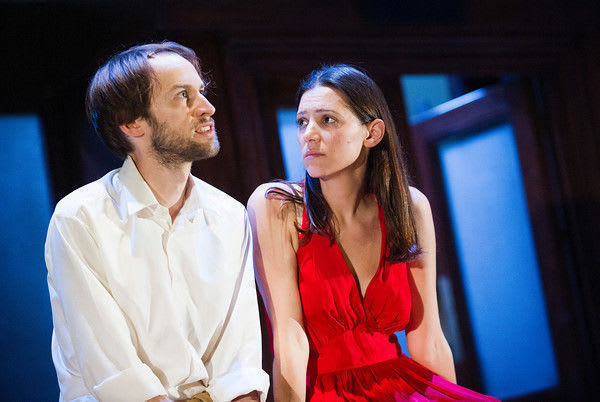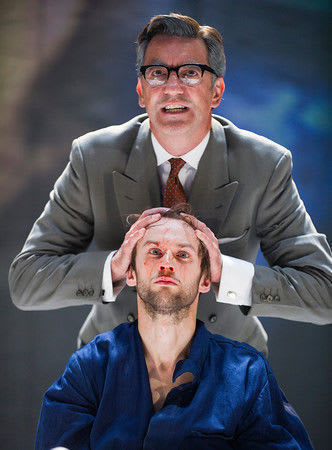 For those busy and impatient people who don't intend to read all of the 834 words of this review, let me begin with this: this is a truly excellent, nerve-jangling production; creatively adapted, imaginatively staged and perfectly cast.
Stage adaptations of classic novels are notoriously difficult to pull off—so much text, so many ideas, so little stage time. For a few minutes at the very beginning of Robert Icke's and Duncan MacMillan's adaptation of Nineteen Eighty-Four (or, in this incarnation, 1984) I worry that we are in for a laboured, unimaginative show.
Too many adaptations open, as this one, with the reciting of a lengthy passage lifted directly from the book. Too few adaptations take this opening and forge from it a subtle, complex framing device, which amplifies and reinforces the major themes of the piece, but this is what Icke and MacMillan achieve, here.
The narration is soon revealed as part of a seminar—eager, articulate, mature students gather round a table. But is the work they are so passionately discussing, the book that 'will change your life', Orwell's or is it the diary of Winston Smith (who 'probably never existed')? And is this a "real" seminar or is it imagined by Winston himself, who at certain points joins in the discussion? And are we in the present (or some version of it), the dystopian near future, or some more distant post-dystopia (after the demise of Big Brother and the fall of the Party)? The manipulation of time (and especially the Past) is key to the totalitarian regime governing Airstrip One (the country formerly known as the United Kingdom).
The world of Winston Smith is filled with the repetitious and the sycophantic—actions and conversations become routine and robotic; history has ended, this is how it will always be, how it always was. When one contributor to a regular lunchtime discussion about the capture of a foreign agent goes missing, his part is glossed over—he has probably become an 'unperson'. A cog may be removed but the machine trundles on. (We note, perhaps with a certain Schadenfreude, that the absentee was a radical apologist for Newspeak).
"Do you know where you are?" It is a question repeatedly put to Winston Smith (and perhaps to us, too). In the end, of course, he knows he is in Room 101, the room that contains 'the worst thing in the world'. The journey that carries him there is one of quiet rebellion; his first step, some tentative words in a forbidden diary, his final ones, steps of sedition and intimacy with Julia in their "secret" love nest.
The transition from lover and aspiring member of the Brotherhood (the secret rebel group supposedly plotting the downfall of the Party) is traumatically staged—shock troops clad in anti-contamination suits and gas masks, aiming flash lights and weapons, restoring order to the joyful disorder created by the lovers, all to the accompaniment of sirens, gunshots, and blinding lights—fills the auditorium with tension, even fear.
It is at this point also that we become aware of our complicity in this pervading surveillance—we have been watching the "private" moments of Winston and Julia relayed by live action camera from a hidden corner of the set. It is a clever notion, brilliantly realised.
The torture scenes which follow, as Winston's interrogator attempts to 'perfect' him, are gruelling (as befits such ordeals) but not gratuitous. Winston's closing words to his tormenter are an object lesson in how, given the wrong context, a simple civility can become an act of dehumanising submission.
Chloe Lamford, whose sets have rescued weak productions elsewhere, thrives in bringing the disparate locations of this much stronger piece into harmony and then disharmony—a wood-panelled Party dining hall becomes seminar room, Winston's home, a subversive antique shop and many other places before being utterly transformed into the torture chamber at the Ministry of Love.
Hara Yannas makes a lean and daring Julia, we believe in her passions and her fears. Tim Dutton's O'Brien has the bloodless calm required whether he be a ruthless dissident or a single-minded torturer. Gavin Spokes makes the most of Parsons, another character who enthusiastically embraces the Party policy on surveillance and betrayal, only to fall victim when his 7-year-old daughter denounces him for hating Big Brother... in his sleep ('at least it shows we brought her up right').
There is no weak link in this cast, but Mark Arends carries the greatest burden as Winston Smith, and carries it well. Here is a Winston who is both resolute and vulnerable, ordinary yet exceptional, frightened yet immensely courageous. No matter what comes in the Ministry of Love, he will never betray the woman he adores. But then, there is Room 101...
As the curtain goes up, a clock strikes thirteen. Time can be manipulated in many ways. Only as the curtain falls, do I realise that two hours (without an interval) have passed. That should tell you all you need to know about this gripping production.
Reviewer: Martin Thomasson