Two Thousand Years
Mike Leigh
A National Theatre production
Theatre Royal, Newcastle, and touring
(2006)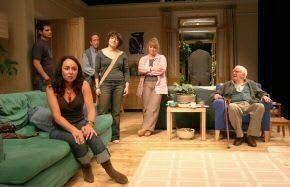 There has been much excitement among the North East's drama enthusiasts about the arrival in Newcastle of the the National's production of Mike Leigh's new play Two Thousand Years. Last year we had the touring version of Martin McDonagh's The Pillowman which was received with great enthusiasm, thus intensifying their anticipation of the latest visit. And, of course, memories of Abigail's Party and Leigh's recent award-winning film Vera Drake only served to increase our expectations.
Were expectations met? To a degree, yes: the audience laughed in all the right places and warmed to this North London Jewish family, even the hysterically self-centred Michelle; no one, too, could fail to be impressed by the performances and Alison Chitty's superbly realised Ikea-inspired set, but the somewhat slow first half was lengthened well beyond the advertised time by incredibly long pauses between scenes. There was no obvious reason for their length, except perhaps to accommodate Gary Yershon's music. They broke the flow of the play and our concentration.
It is, of course, possible that there were some backstage problems of which we were unaware. If so, I hope they are now solved!
As you would expect, given the way Leigh creates his plays and the length of time that the cast have been involved - the development period, the run on the South Bank and two previous tour weeks before Newcastle, the actors are well settled into their parts and their control not just of voice and movement but also of even the smallest gesture and facial tic was perfect. However the play itself does not grip. We watched a perfectly realised slice of life but even the disturbance of the even tenor of their lives in the form of the son Josh getting religion did not raise the dramatic tension, even though it was an almost inconceivable thing for a member of this secular family to do. And his abandonment of it in the second act passes without remark or explanation.
It is only the arrival of Samatha Spiro's Michelle in the second half which brings some new life to the piece, moving the comedy up a notch and reminding us a little of that horrendous Leigh creation Berverly. But even she fails to have a lasting effect and the family slips back on its even keel with only Josh having changed, perhaps having learned from the mistakes made by his aunt Michelle.
Two Thousand Years is a beautifully crafted play, with moments of genuine anguish and even more moments of great humour; the characters are well-drawn and beautifully performed; the set, lighting and sound (with the caveat about the pauses mentioned above) are all of high quality. However the whole is no more than the sum of its parts and we are little more than spectators, looking on with sympathy, perhaps, but no involvement.
The tour goes on to Warwick Arts Centre, Malvern Theatres and the Arts Cambridge
Philip Fisher reviewed the premiere of the play at the RNT Cottesloe
Reviewer: Peter Lathan