5.30
Alistair McDowall
24:7 Theatre Festival
Pure, The Printworks, Manchester
(2009)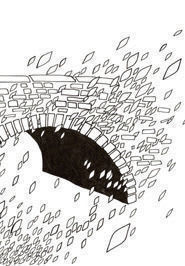 This play's title could well cause some box office headaches as people ask for tickets for 5:30 at 9:00 in 24:7. The programme asks audiences not to give away any plot details (with 'any' underlined) but it is possible to give some information regarding what it is about without spoiling anything.
Tim is a student reading his text book quietly on a train. Rob is hyperactive and friendly to an intimidating level, chatting away as he works through his Aldi carrier bag of cans of beer and occasionally getting worked up when he talks about some subjects. Tim is polite and sometimes tries to join the conversation but would prefer to get back to his book. However the plot takes a sinister turn, and after some surprising revelations on both sides comes to an uneasy resolution. There, I don't think that gives too much away.
This is a lively and funny piece that has some obvious echoes of Edward Albee's Zoo Story but which takes a different direction. The lively, pacy dialogue is brought alive by a superbly energetic performance from Peter Ash as Rob, but the quieter, more reserved performance from Adam Caslin as Tim should not be underestimated as he provides a perfect foil for Ash's exuberance.
This is a lively and entertaining variation on the 'strangers on a train' or 'nutter on the bus' theme with some great dialogue and some well-drawn characters, although Rob perhaps drifts off on one or two too many diversions at times and the more serious parts towards the end start to get repetitive and run out of steam. However this certainly doesn't spoil a decent, enjoyable piece of theatre.
Reviewer: David Chadderton