The Colorado Session
Jessica Luxembourg
24:7 Theatre Festival
Pure Funktion Room, Manchester
(2007)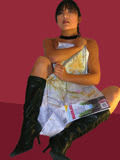 Jacqueline is a high powered lawyer who is as addicted to alcohol and drugs as she is to sado-masochistic sex. She is mourning the loss of her boyfriend Ethan who has left her to go to Colorado. When she meets Donald ,a debauched South African banker, the power battle in which they engage leaves both with new wounds as well as a new understanding.
Despite the small audience in the Pure Funktion room the atmosphere created on stage by the two main actors was electric. The dialogue was by turns raunchy and violent, dreamily poetic and then rivetingly naturalistic. Harriet Plewis gave us a tour de force of anger and pain and Jeffrey Mundell showed us a narcissistic brute with a veneer of charm. Each was a match for the other. The language was as explicit and raw as some of the action yet was punctuated with a mordant wit.
Alan Lane was an intriguing Ethan, the erstwhile boyfriend who has fled the country for reasons which become clear through the course of the play. This reviewer found that the fact that his performance was delivered through filmed inserts as a sort of flashback somewhat muted its impact. However this was a powerful piece of theatre and a fascinating meditation on loss and the search for connection. It was beautifully constructed by award winning writer Jessica Luxembourg and brilliantly directed by Sophie Austin.
This is definitely not for the faint hearted or easily offended and the 18 certificate is fully deserved. However the production is engrossing adult fare which merits a bigger audience for the rest of its run in this festival.
Reviewer: Andrew Edwards