ContreCoup
Ross Andrews
24:7 Theatre Festival
Pure Funktion Room, Manchester
(2007)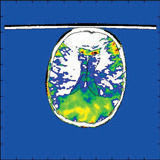 It is eighteen months after the accident which left his wife Sarah confined to a wheelchair having suffered brain damage and Richard is in limbo: unable to move forward with his life but barely coping with the task of taking care of his wife as well as himself. He has an interfering father-in-law called Malcolm and romantic complications in the shape of the svelte neighbour Penny. The scene is set for a dark comedy which explores the challenges of surviving a life changing trauma.
Writer Ross Andrews manages the delicate balance between comedy and drama very effectively. The play is touching when it needs to be and yet also amusing at the right moments. The presence on stage of the mewling and dribbling wife Sarah played very skilfully by Hazel Earle was reminiscent of the character of Joe Egg in the famous play by Peter Nicholls.
All the characters were well drawn. Ian Curley was a believable Richard whose struggle with his changed wife was convincingly depicted. Amanda Leigh Owen was a suitably flirty next door neighbour and Richard Sails and Katie McArdle as respectively Malcolm and Michelle the nurse provided much of the humour in the piece. The only thing that took away from the sterling efforts of the cast and crew was the rather loud fan type noise in the Funktion room which this reviewer found to be quite distracting.
Reviewer: Andrew Edwards