Daisies
Written and directed by Alistair McDowall
24:7 Theatre Festival
Pure: Blue, Printworks, Manchester
(2008)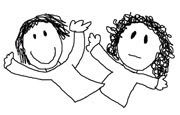 Daisies opens with Lucy speaking on a microphone like a stand-up comic telling us about her life working in an office, being generally lonely but having a series of one-night stands with various men in the office, until after around twenty minutes she makes the revelation that audiences are asked not to reveal and that indicates the real setting of the play. From then on, Isabel appears and the play becomes a Godot-esque piece about waiting mixed with some harrowing stories from both women about love affairs that went tragically wrong for them.
There is some quite strong writing in some of the speeches and some interesting set pieces between the two girls, but as a whole it is quite uneven. This is writer-director Alistair McDowall's thirteenth play, which is quite surprising as there is something quite naive and "studenty" about the whole piece, from the obvious very strong influence of Beckett to the boasts in the programme that the title is 'cryptic' — i.e. it doesn't have any obvious relation to what happens in the play — and that the play doesn't fit into the categories of 'comedy' or 'drama', the latter presumably used in the restricted sense used in TV and film listings.
The parts of Lucy and Isabel are pulled off well by Lisa Gill and Beattie Edmondson, but they both look far too young to have had the lives they describe. Gill's opening speech was delivered at a very rapid pace and quite quietly, which was made worse by the fact that her microphone wasn't working but the technician kept fiddling with it and making it buzz through the PA.
Overall this piece shows promise, but the writer seems a little too concerned with trying to be quirky and clever with form than just telling a good story.
21 to 27 July 2008
Reviewer: David Chadderton