A Dog Called Redemption
Matthew Landers
Midland Hotel, Manchester
24:7 Theatre Festival
–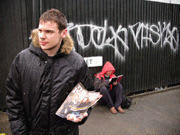 Two homeless men, only listed in the programme as 'man 1' and 'man 2', meet on the streets, where the young, confident first man initially sees the older second man as a figure of fun, but they form a bond and spend the night together in a disused fish and chip shop. Here their relationship develops in a number of different directions, but can their friendship survive the first man's drug addiction or the second man's mental health problems?
The production, directed by Mark Pollard, is slick and pacy throughout with a script that crackles along and manages to be both funny and moving, with a cheeky quote from Waiting For Godot for audiences to spot. Writer Matthew Landers produces a superb performance as 'man 1', with very good support from Graham Elwell as 'man 2'.
Apart from some reservations about the very last scene, which seems to be trying to give a poetic ending that doesn't quite fit, this is a polished and entertaining piece of theatre that is well worth a look. It will go on to the Edinburgh Fringe, where it will be at the Baby Belly at the Underbelly for the whole of August.
Reviewer: David Chadderton