Fourteen
Ian Moore
24:7 Theatre Festival
Pure: Blue, Printworks, Manchester
(2008)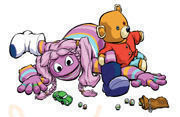 Ian Moore's play about a teenage runaway in a children's home uses some elements that you might expect to see in a children's play or programme but is a long way from Tracy Beaker and very much for adults.
Anne-Marie was born illegitimately into a large family and now, at fourteen, lives mostly in a children's home with weekend visits to her sister Siobhean's house but often runs away with dubious people for days at a time, returning drunk and unable — or unwilling — to remember what she has been doing or where she has been. However she still has an imaginary friend, the slightly Muppet-like Id, who sings to her and cheers her up, as well as giving her someone to sound off to about her mother and about the head of the home, Jeannette 'Tin Knickers' Clarke.
In the role of Anne-Marie, Dolly-Rose Campbell, recent Arden graduate, makes her professional debut, and she does a very good job of portraying this troubled teenager, looking arrogant and pouty in her dealings with the adults but young and vulnerable when narrating her story directly to the audience. The black-hooded Clara Darcy breathes a great deal of cartoon-like life into Id, giving a nice contrast from the gritty unhappiness of the real world scenes and some nice musical interludes. Joanne Wilde and Fiona Gordon do a decent job of creating the characters of Siobhean and Jeannette, and 24:7 director David Slack has a small but amusing cameo as children's home worker 'Lardy' Geoff.
The cinematic sequence of very short, wordless scenes when Siobhean is waiting for Anne-Marie to come home doesn't really come off, especially in a venue where the lighting options are little more than a slightly uneven full wash or blackout. The songs have the feel of the sort of thing you might hear on a Cbeebies programme, but with a bit more of an edge, and they do a good job of varying the tone of the piece.
This play has a great deal of promise with a fascinating central character in Anne-Marie McManus, but the structure needs some work to keep the story moving and to keep it as compelling throughout the play as it can be at certain moments, plus all of the characters apart from Anne-Marie are a little thin and underwritten.
21 to 27 July 2008
Reviewer: David Chadderton