The Inconsistent Whisper of Insanity
Ian Moore
Black Box Theatre Company
24:7 Theatre Festival, New Century House, Manchester
(2010)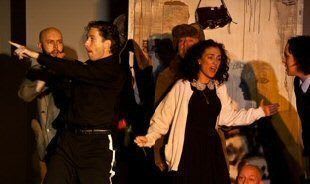 Ian Moore, artist director of Black Box in Liverpool which runs a similar new writing festival called Write Now, returns to 24:7 with a production that is as ambitious as its title is defiantly impressive if rather mysterious.
The play focuses on Milena who, in her seventies in the 1980s, returns to Kronstadt from her hospital in northern Spain sixty years after she was unwittingly involved in an uprising against the Russian government when she was just fifteen years old. However dementia has wiped from her memory most of the intervening years.
Most of this storyline has come from reading the programme (be aware that this is the only production in the festival that charges for programmes) as the play doesn't follow any conventional notions of plot or narrative. The action chops about between times and places, scenes are repeated or are standalone set pieces that do not directly contribute to a plot line and the ensemble actors chant or create sound effects verbally and play multiple roles while moving around the two screens that form the set and the many props.
All of these elements—all very common in group devised productions which, apparently, this play began as—can be very effective and no doubt are intended to contribute towards an impression of the protagonist's mental confusion and the chaos of the events that she is remembering. However whilst there is nothing wrong with challenging the audience to fill in the gaps in a piece of theatre, without any clear spine to the plot it is in danger of losing its audience entirely.
The cast of eight are extremely well-drilled as they have a lot of difficult moves, chants, sound effects and character and scene changes to remember as well as the scenes themselves, which they execute flawlessly. The sound design by Ben Watson is impressive and Katy Long's lighting design tries to get more out of the limited technical facilities at 24:7 than any of the other productions in the festival.
Watching this play is a frustrating experience but at least the play sticks in the mind as you try to work out whether there is any real substance behind all of the obscurity and the demonstrations of performance styles and techniques. While it has some very interesting ideas in the material and the presentation, it is rather like a very difficult jigsaw with a few crucial pieces missing.
Until 31st July
Reviewer: David Chadderton