Islanders
Dick Curran
Farne Productions
24:7 Theatre Festival, New Century House, Manchester
(2010)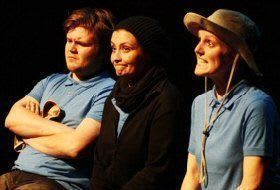 Islanders is another play that is far more interesting than was implied by the trailer at the media launch.
Peter is a university dropout who works as a warden on the Farne Islands, a seabird sanctuary and tourist attraction off the coast of Northumberland. He uses his job to escape from the world, often sleeping on the island instead of returning to the hostel on the mainland as he is supposed to, and believes that man will soon bring about his own destruction through climate change. He is openly hostile towards his supervisor Ellen who appears to return his hostility while bringing him food and protecting him from disciplinary action.
Into this walks temporary guide Nicola who is well-dressed and well-spoken and sits eating her M and S sushi while Peter eats cold beans out of a can. Although she appears to be ill-suited for this job, she proves to be a match for Peter's grumpy jibes and works hard both to learn her job and to coax Peter to open up. Soon they all reveal their own reasons for escaping from the world to this remote but beautiful place.
Perhaps there are a few too many revelations of past traumas and surely not everyone that works in such a place would be doing so to run away from something, but such doubts are soon forgotten when you get wrapped up in the compelling narrative. There is plenty of gentle humour amongst the occasional traumatic stories, but neither the comedy nor the serious revelations seem forced or unnatural.
The characters are perfectly believable and perfectly performed by Katy Slater as Nicola, Claire Dean as Ellen and Mark Frampton as Peter. A lovely story well-told with some nice humour mixed with some touching moments and well worth a look.
Until 31st July
Reviewer: David Chadderton