The Last Chair
Ian Townsend
24:7 Theatre Festival
New Century House, Manchester
(2009)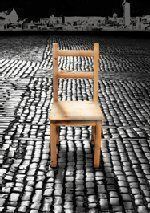 Ian Townsend's absurdist comedy, which seems to hark back to the great N F Simpson in style, is based on the premise that there is only one chair left in the world, as all of the others are occupied and no more will ever be made.
It opens with 'Man' sitting quietly on a chair for quite some time, before 'Woman' enters saying she has been looking for days for a chair as she would like a sit down. They dance around with words and repetition, with 'Man' offering 'Woman' his chair and her not sure whether or how she should sit on it. The problem seems to be solved when Tom, a chair maker, arrives with another chair so that they can both sit down – but what happens if Tom wants to sit down too?
This unreal situation is matched by unreal performances that are sustained superbly by the three performers – Karl Lucas as 'Man', Hayley Fairclough as 'Woman' and Stephen King as Tom – without becoming annoying as they could so easily do. The slick, honed dialogue is matched by some slick, well-paced direction from the author with only a few bits of comic business that don't really come off.
The problem is that this is really an extended sketch and the premise is rather too slight to stretch to 50 minutes, but it is fun, entertaining and well-performed.
Reviewer: David Chadderton