No Place Like Home
Rebekah Harrison
24:7 Theatre Festival
New Century House, Manchester
–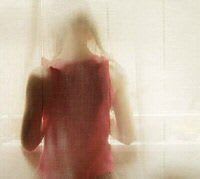 Set in a women's refuge, Rebekah Harrison's No Place Like Home is a dark and occasionally intense look at the victims of domestic violence.
Donna is a new arrival at the refuge after her husband beat her up in front of her son and daughter, whom she has brought with her. The son in particular complains about being here and obviously misses his father, despite what he has done, and threatens to jeopardise their situation; the younger daughter also complains but mostly about the behaviour of her brother. All of the other women in the refuge have their own stories of domestic abuse and are desperate to be found a place of their own.
Harrison's play doesn't have many lighter moments, but there are a couple of tense, dramatic scenes that are very effective and some touching moments in this nicely-written play. She does have a tendency to end scenes before they've really got going in the manner of a TV soap, which makes it rather "bitty" in parts, and there are a couple of oddities in a largely-naturalistic drama, such as the way the actors turn to the audience at the start of each scene and unnecessarily announce the time and date, and the young boy's very impressive but rather bewildering little dance breaks in the middle of scenes that don't really add anything to the play.
Frustratingly, the programme doesn't give the names of the characters, but there is a very strong performance by Jessica Higgins as Donna and a very impressive and mature performances by 13-year-old Trystan Chambers as her son. Mike Friend gets across the duality between temper and apology as Donna's husband in a particularly frightening scene. Stevie Adams is appealing as Donna's daughter, Christabel Brown is the youngest resident whose father was the abuser, Claire Barron is desperate to find a place of her own so she can get her kids back from her abuser husband and director Janys Chambers is the older resident who won't tell her grown-up children about their father's abusive behaviour. Writer Harrison plays the person who runs the home, but she seems emotionally rather distant from the character she is playing.
While it does have its flaws, this is a nicely-written and intense piece of theatre, but one that is quite harrowing to watch—perhaps rightly so in view of the subject.
Running to 28 July 2011
Reviewer: David Chadderton