Reeling
Sean Gregory
Piece of Work Theatre Company
24:7 Theatre Festival, New Century House, Manchester
(2010)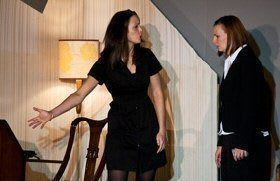 One of last year's most successful 24:7 writers Richard Vergette, whose As We Forgive Them went on to Bolton Octagon and The Young Vic in London and was then recorded as an audio play for The Independent newspaper, returns to this year's festival but as a director, not a writer.
Writer Sean Gregory was also involved in last year's festival with his first play Donal Fleet: A Confessional and now returns with Reeling. The play has an intriguing concept: after their mother's funeral, two sisters wander into the house of the strange man next door to find that he is not there but he has left a trunk full of dated audio cassettes on which he has been recording the events in the girls' lives through the walls for decades. After their initial horror, they see an opportunity to relive moments from their own past and even rewrite them to correct their mistakes.
There are a couple of hugely improbable elements to the plot that you have to swallow before you can accept anything that happens: firstly that the girls can just walk into this man's house as though it is familiar to them when they say at one point that he wouldn't even let them in to shelter from the rain when they were once locked out of their own house, and secondly that they can recall the exact dates of key conversations over decades in their lives and be able to quickly wind to the exact point in the tape where it is recorded. If you can accept those things within the fantasy world of the play, then this becomes a fascinating idea and a brilliantly original way for these sisters to examine their lives and reveal things that they have never previously been able to talk about.
This does not yet feel like the final draft of the play as there are odd turns of phrase that don't sound natural, little tangents that the characters go off on for no reason other than to drop in something the playwright wants to mention and other things that could be made to work better with more work. There are also problems with the production, the main one being that there seems to be a big difference in the pace of the dialogue as written and the pace at which it is delivered, which is very slow and laboured at times.
Louise-Clare Henry is excellent as the younger sister who stayed with her mother with superb delivery of many cutting wisecracks, although she is less convincing in the later emotional moments. Joanne Smart is also good as the uptight, wary older sister who left and ended up with a husband she doesn't want to be with. The technical team has done a decent job with all of the voice recordings, although it seems a little odd for them to be coming out in full stereo when the tape player is clearly in the stage right corner.
Overall an interesting and original concept with an improbable premise that you can just about accept and with plenty of humour, but one that does need more work to make the best of it.
To 1st August
Reviewer: David Chadderton