Sheepish
Joyce Branagh
Bleating Heart Productions
24:7 Theatre Festival, New Century House, Manchester
(2010)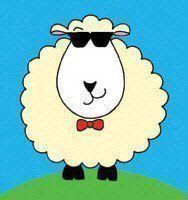 Sheepish is the first play that experienced theatre director Joyce Branagh has written, although she is currently completing her second for Forest Forge Theatre Company.
The play opens with two men on a grassy mound dressed in sheep costumes waiting for someone called Dee to take them to a party. They verbally abuse one another and also have a go at their host for being late while indulging in fantasy trips such as a motor bike race using the two wooden benches. They are eventually joined by a girl dressed as a black sheep who joins in their fantasies, including a trip into outer space, and plays the two men off against one another as they vie for her affections. But will the notoriously-unreliable Dee turn up to take them to his party?
If this sounds a little familiar, there is, it's true, more than just a hint of Waiting For Godot about the general plot idea. It's a play about waiting and passing time, just like Godot, and it keeps dropping into comic set pieces, just like Godot. The problem is, it isn't as funny as Godot; while there are many lines that are phrased and delivered like jokes, they aren't really that funny, and the cartoonish characters make give the whole piece the appearance of a children's TV programme but with added swearing and sexual innuendo.
Christopher Chilton, Ayesha Gwilt and Simon Holland Roberts each do a decent job of putting across their over-the-top characters and pointedly delivering the comic lines. There are some interesting ideas here, but the visual novelty quickly wears off and the comedy isn't funny enough to sustain interest. The final twist in the closing minutes is funny and unexpected, but 55 minutes is a long time to wait for a punchline.
Until 1st August
Reviewer: David Chadderton