Steerage
Georgina Perry
24:7 Theatre Festival
Midland Hotel, Manchester
–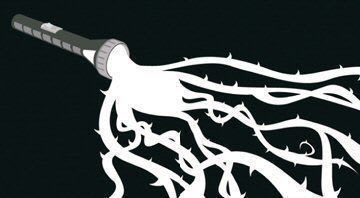 Georgina Perry's Steerage sees two children hiding in a shipping container as stowaways on their way to England, but others have had the same idea and so their temporary prison has to be shared.
Teenager Zead is looking after his ten-year-old sister Immy who doesn't speak at all when they are set upon by Tamir who, unknown to them, has stowed away in the same container and has designs on their torch and knife. The situation is calmed by the commanding presence of Ibrahim, a second unnoticed co-habitee. During the arguments over light, water and power, Immy retreats into her imaginary world of shadow puppets.
There are some great ideas in this piece but there are far too many problems in execution for it to work. The characters have no depth or history, the moments of stalemate between the warring parties become static and repetitive rather than tense and the puppetry sections halt the action rather than tying into the rest of the play.
Much of what we see comes across as incomplete or simply illogical. Trapped in this sort of situation for days or weeks (it isn't specified) the focus would be very strongly on the most basic human needs: food, water, sleep and toilets. Food is never mentioned, it is suggested that the water is only needed because Immy has been sick and Ibrahim does ask Zead how he can defend himself from Tamir when he is asleep but we never see him deal with that problem. It is also difficult to understand why they are fighting over a torch when they are moving around as though they can see perfectly well.
The thin characterisation is helped enormously by some very intense performances, particularly from Catherine Dowling as mute Immy and Assad Zaman Chaoudhury as her volatile but frightened brother Zead. Ali Gadema is a very commanding presence as Ibrahim and Amir Rahimzadeh is a very effective joker in the pack as the unstable and unpredictable Tamir. There is some very nice and effective music from composer Rebecca Applin.
Despite some good ideas, this play does not seem complete with lots of holes in the plot and the logic of the situation and feels stretched to fill the hour.
Reviewer: David Chadderton