Telling Lives
Eric Northey
24:7 Theatre Festival
Sacha's Hotel, Manchester
–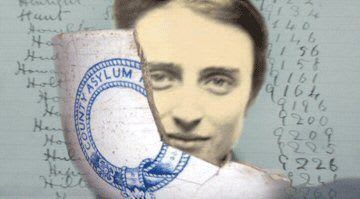 Telling Lives is described by its author Eric Northey as a "Brechtian fiction" and is based on actual patient records and photographs from Prestwich Asylum from the early twentieth century.
The play begins with a changeover in management at the asylum as Dr Whewell makes way for the more progressive Dr Frank Perceval with his modern methods of anthropometry, or using measurements of various parts of the human frame as indicators of all sorts of things from diet to mental state. The patients come in one at a time to be interviewed and photographed by the new doctor. After this, we are shown character monologues, set piece scenes and songs that tell fragments of the lives of some of the characters in the asylum.
Here, as so often, "Brechtian" is used as a shorthand for a piece without a plot and with a collision of different styles and techniques rather than having much to do with the dramaturgical or political ideas of one of the twentieth century's most innovative and problematic writers, directors and theorists of the theatre. What we do get is, despite it being a scripted drama, a lot of clichés of student devised pieces, such as chanting, groaning, use of torches, actors sat in the audience, linking interludes of group abstract movement, squeezing in as much of the researched material as possible, and lack of any coherent structure.
I reviewed the final performance of this piece at 24:7 when the director, Sue Womersley, stepped in for an indisposed Martin Drew in the lead part of Perceval, but she did a perfectly decent job of it and her performance didn't detract at all, even with the script in her hand. The other performances in this large cast range from good to passable, but no one stands out particularly. There is some nice music from composer Christopher Cotton including some songs that do, admittedly, have a whiff of The Threepenny Opera about them.
In an essay in the programme (as with last year, the production with the largest cast is the only one to charge for a programme; coincidence?) the author says he is using the historical stories to make a point about attitudes to mental health now, but even in the essay he is a bit vague about what that point is and the play itself certainly doesn't clarify this. It seems that the writer is so enamoured of his technique that just as something interesting or enlightening starts to happen, it ends without really being developed.
Another problem is that even allowing for a late start, this play overran the festival's maximum time limit of an hour sufficiently for it to cause problems for the setting up of the next performance at this venue and for anyone in the audience who had booked to see a show in the next time slot at another venue, some of whom were seen to leave early.
In the end, Telling Lives tells very little about the lives of its subjects in what really amounts to a rather downbeat musical revue.
Reviewer: David Chadderton