27
Abi Morgan
A National Theatre of Scotland and Lyceum Production
The Royal Lyceum Theatre, Edinburgh
(2011)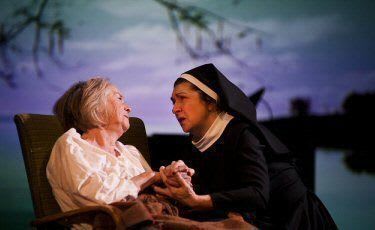 A tender and thoughtful look at both the world of the convent and the degenerating mind. Abi Morgan brings to life a group of nuns who are being used in a scientific study, without reducing them to stereotype. The characters are very well drawn if the plot itself is a little simplistic.
Within the grey walls of Merle Hensel's stark convent with a beautiful view, the nuns, in particular Sister Ursula (Maureen Beattie) and Sister Miriam (Collette O'Neil), steal the show. The male scientists, Dr Richard Garfield (Nicholas Le Prevost) the good one and Dr Sam Parker (Finn den Hertog) the one who sells out, are less complex showing the struggle between pure scientific research and commercial pharmaceutical companies.
The play is not heavy-handed, just a little obvious at times in this area of conflict; its handling of dementia though is to be commended. It is a very sensitive condition to cover as it is so distressing and so many people have experienced it through older relatives. There is only a very brief presentation of an actual sufferer, but this is done extremely well.
This presentation really shows the reality of the illness, not just because O'Neil's performance is so detailed as Sister Miriam with dementia, but also because we see her earlier in the play before the onset of the illness. Thus we see the real tragedy; the fact that even the finest minds can be affected and reduced like this in a relatively short period of time.
The central figure is perhaps the most tragic of all, Sister Ursula as Sister Miriam's successor who relied on the elder nun as a mentor, but now has to take over from her and also look after her. Beattie gives a vibrant performance and shows, through this energetic character, the people who really suffer are those closest to the patient, who have to care for someone who no longer recognises them.
Though the plot line about pharmaceutical greed is a little simplistic, its look inside a convent was quite eye-opening and the play's handling of dementia was to be commended and resonated with my own experiences.
"27" runs until 12 November
Reviewer: Seth Ewin