The Man With Two Gaffers
Blake Morrison's adaptation of Goldini's A Servant of Two Masters
Northern Broadsides
Theatre Royal, York
(2006)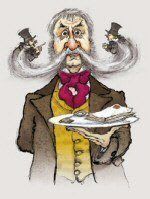 Blake Morrison is the man we have to thank for Northern Broadsides' The Cracked Pot, an adaptation of Heinrich von Kleist's Der Zerbrochene Krug so successful it could have passed for a new work set in the Yorkshire Dales. It's reasonable to assume that what worked for a German play should also work for an Italian one. After all, Goldini himself wrote, "To give us the knowledge of the literature of another country, the thoughts, imagery and erudition must be transferred; but the phrases and style must be adapted to the taste of the nation into whose language the translation is made." Has Morrison managed to hit the jackpot again with The Man with Two Gaffers, in which the Canal Grande is transformed into its Leeds-Liverpool counterpart and the characters speak broad Yorkshire instead of Venetian dialect?
Gaffers has one of those convoluted plots best left to Shakespeare or used as the basis for an opera libretto. Rich but tight-fisted farmer Samuel Towler (Dicken Ashworth), having arranged a marriage between his daughter Clarice (Victoria Fleming) and factory owner Charles Ramsey, learns that Charles has been killed in a fight. Much to her father's disgust Clarice wants to marry Stephen (Matt Connor), son of the Reverend Lumb (Roy North). The Towlers' outspoken housekeeper Esme Dean (Nicola Sanderson) supports Clarice in her matrimonial aspirations.
However, having made a miraculous recovery Charles reappears on the scene - except that "he" is in fact his sister Charlotte (Kate Ambler) in male disguise. Charlotte's lover Frank Flowers (Simon Holland Roberts), who went on the run after being wrongly accused of killing Charles, puts up at an inn run by Bill Beckwith (Simeon Truby). As if things weren't complicated enough Towler is also a guest, and roguish servant Arthur Dodge (Barrie Rutter, who also directs) manages to find employment with both him and Frank. Will Clarice and Charlotte get their men? Will the Rev. Lumb ever tire of spouting Latin quotations? Will Arthur succeed in his plan to earn, eat and drink enough for two?
The story transfers well enough to nineteenth Yorkshire, the cast give their all, and Leslie Travers' set is one of the most imaginative I've seen in a Broadsides production. Free-standing doors and a few items of furniture are flanked by symmetrical heaps of coal and limestone (the principal cargoes transported by the Leeds-Liverpool canal), and a selection of oriental rugs in monochrome colours suggest the plush but dour atmosphere of a nouveau riche Victorian household. Yet there is something missing - and unfortunately it's the vital spark that made The Cracked Pot such a triumph.
Part of the problem is Morrison's self-conscious use of archaic Yorkshire dialect words, most of them as unintelligible to modern Northerners as Goldini's eighteenth-century Venetian dialect must be to modern Venetians. It gives Gaffers a pickled-in-aspic flavour that smacks more of the heritage industry than an attempt, however laudable, to celebrate this aspect of an almost extinct regional culture - I'm from Bradford and I'm rather ashamed to admit that I didn't recognise at least three-quarters of the dialect words used in the play.
Gaffers is also slowed down by the arid stretches of exposition needed to explain the complicated plot and the fact that, as is the case with most farces, it's difficult to empathise with any of the characters. Despite some very funny moments, such as Arthur's demonstration of his table-laying and meal-serving skills, the play is almost as exhausting to watch as it must be to perform.
"The Man with Two Gaffers" is a Northern Broadsides/York Theatre Royal co-production, playing at the Theatre Royal until 16th September and then touring to Huddersfield, Salford, Ollerton, Leicester, Richmond, Skipton, Liverpool, Newcastle under Lyme, Southampton, Scarborough, Blackpool and Halifax. The tour ends on 9th December.
Peter Lathan recently interviewed write Blake Morrison
Reviewer: J. D. Atkinson