The Two Gentlemen of Verona
William Shakespeare
Brave New World Theatre
Theatro Technis
(2007)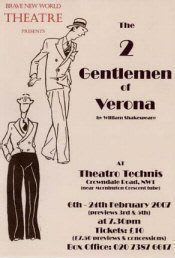 The Two Gentlemen of Verona (1592-1593) is directed by Kim Durham and set in the Art Deco era of the 1920s (designer by Zoe Price) and receives an energetic production by Brave New World Theatre. This play is considered Shakespeare's first romantic comedy and with Valentine's Day around the corner it is an timely production. However, you do not need to be in love to enjoy the show; you just need to be a little patient as the story takes a while to warm up. (This play is considered one of Shakespeare's less accomplished works). That said, I thoroughly enjoyed watching Shakespeare find his feet as a playwright and witnessing how later work may have developed from The Two Gentlemen of Verona. For example, at times I felt I was watching first draft scenes from As You Like It, A Midsummer Night Dream and Twelfth Night.
So what is the story about? In a nutshell the play questions the bond of both love and friendship and tests human emotions to the limit. How far will the characters go to serve their heart? When Valentine (played with tragic comedy by Dave Holby) states, "Love is your master, for love masters you," he hits a nerve. When Valentine is betrayed by his best friend, Proteus (played effortlessly by Cameron Anderson), we know a woman is at the heart of it.
Proteus leaves his home and his sweetheart Julia (played with compassion by Sally Gooda), to visit his old friend, but when Proteus meets Valentine's beloved Silvia (played confidently by Annabel Ballin), Proteus is smitten, proving that, "Amongst all foes, a friend should be the worst" - as Valentine says.
There is no denying that the cast, predominantly graduates from ALRA, are a passionate ensemble, but there is one actor whose performance was alive in every line, and that is Speed (Valentines servant), played by Ben Wigzell.
Brave New World Theatre is a new type of Theatre Company that exists for aspiring actors, in the same way that other companies are created to develop new writers. Working in conjunction with Theatro Technis, Brave New World Theatre will provide short residencies for productions featuring some of the best new talent emerging from drama schools. It is important to support such work and the Brave New World gets my vote.
Reviewer: Lennie Varvarides