Two Men Talking
Paul Browde and Murray Nossel
Trafalgar Studios
(2007)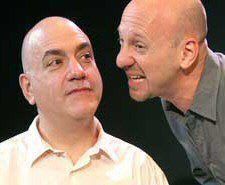 I've begun to get a bit impatient recently with plays adapted from books and journals in which characters narrate great chunks of background and plot rather than showing and enacting them. So what on earth am I doing at a show called Two Men Talking and that is being promoted as them telling their stories. It has been performed in several countries and was a great success on the Edinburgh fringe: that's enough to make me suspicious as to how much reactions there were conditioned by Edinburgh adrenalin and overload.
After touring dates in Britain last month it is now in the intimate space of Trafalgar Studio 2 where I went to it with trepidation. Now I want to tell you not to miss it. This is a very funny, very moving show, though I am not sure that show is how the performers would describe it. Paul Browde is a psychiatrist who trained as an actor, Murray Nossel a psychologist who has become a filmmaker. Both are Jews from South Africa and both, as it happens are gay. One of them has HIV. All this is revealed to us as they tell us, in a very direct and personal way, about their lives.
But don't, please don't think this is something aimed at a gay coterie or any kind of niche audience. This is for everyone. Yes, it does have its own agenda. One reason these men developed their performance was because of work they were doing with AIDS patients and that is reflected in the content, but they see story-telling as an enabling device not just for the teller but for the listener too. Whatever the intention, they will give you a great deal of pleasure.
There is just the audience, two chairs and two men talking. A little diffidently at first, then gradually becoming more comfortable with each other and with us and we with them. You don't talk back, just listen, though how the show develops is probably adjusted to match the audience's response. Clearly there is a basic structure, if not an exact script but you feel that sometimes one man does take the other by surprise. Whether this is real improvisation or skilful acting is perhaps in question. Both men are, after all, playing themselves. Together they create an atmosphere, an intimacy, like that I remember at parties when the generations mixed more readily, before the days when everyone had hi-fis so you didn't play music or dance – though if someone played the guitar you might sing, but talked and listened fascinated to tales of older people's experiences and travels.
While one man tells about a situation or an incident the other will be drawn in to become another personality involved. From recounting they then segue into performing, whether it be black maid, frustrated schoolteacher, dogmatic drama coach, classmate, friend or lover. They tell us stories of their own self-discovery: of the way people treat each other, of cruelties and of love discovered, taking us from childhood and youth in Jo'burg, with a white Mercedes Benz, 'Durban poison,' child transvestism and a snatch of Gypsy to the squalor of the Bowery, tap dancing in London, love in Brooklyn and back to Africa. There is darkness in the background, whether it be the gas chambers of Auschwitz, Kaposi sarcomas, schoolboy bullies or body bags but this is an evening of hope and affirmation that will often have you in stitches.
Reviewer: Howard Loxton