The Two Most Perfect Things
An entertainment by Adrian Fisher & Stuart Barham
The Words & Music Theatre Company
Jermyn Street Theatre
(2011)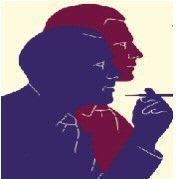 This is a musical double biography of Noël Coward and Ivor Novello, 'The Master' and 'The Governor'. What a pair, and who could be more theatrical? Novello's star may not shine as brightly now as it used to do but once these were equal West End luminaries (though Novello, of course, first made his name as a song writer and in the movies). As composers and performers they were both friends and rivals.
"We have much in common." Noël Coward said. "We were both boy sopranos and both drink a lot of tea. We have both worked hard all our lives, and are fortunate, talented and successful. We are both reviled by the press and adored by the public, in addition to which we enjoy each other's company."
That is one of the quotes used in this show which uses their own words for most of the other material that opera singer Adrian Fisher and conductor and pianist Stuart Barham have put together.
It is very cleverly crafted and beautifully mounted in white tie and tails and glamorous evening frocks on a set by Tim Reed that reflects the art deco glitz of the Savoy. There is no attempt by Adrian Fisher and Charles Howell to impersonate Coward and Novello (though Howell does use a hint of a Welsh accent) but they play them with great style (as well as other roles and narration), with Margaret Preece and Isabelle Roeland being tartly funny as their mothers, among other roles which, in Preece's case, includes Gertrude Lawrence. The biographical material includes their particular beginnings and first successes, their mutual failure in Sirocco, Coward's abortive work as a diplomat and Novello's imprisonment for petrol misappropriation, but the emphasis is on the musicals. Their straight theatre and movie work gets only cursory mention but that can be forgiven because so many of their musicals are represented.
The songs are delivered with great panache, sometimes just a little too operatic in style to get full value from the witty lyrics but musically they are very strong. And there are more than thirty numbers in the show's two acts, plus a medley as a curtain call encore that goes on so long that the programme calls it "Concert" and that packs in nearly forty more. You certainly can't complain you are not getting your money's worth!
Barham joins in occasionally in song and dialogue from the ivories and the audience e gets the chance to chorus with "Keep the Home Fires Burning".
"Where are the Songs We Sung?" asks the first number of the evening and for a delighted audience of the mainly not so young the answer was clearly: "Here!"
It was Fisher's idea and he shines in it, especially in a very personal rendering of "A Bar on the Piccola Marina". There isn't a dressing gown or a long cigarette holder in sight and Howell can't claim matinee idol looks but these aren't imitators, they are performers and they do the material credit.
"The Two Most Perfect things" runs at the Jermyn Street Theatre until 21st August 2011
Reviewer: Howard Loxton