Two Planks and a Passion
Anthony Minghella
York Theatre Royal
(2011)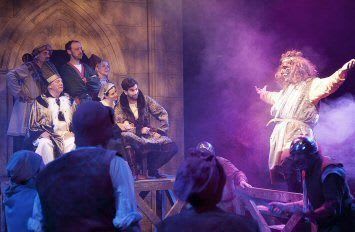 This latest instalment in York Theatre Royal's "in the round" season also serves as a dry run for next year's large-scale Mystery Plays 2012 project. A co-production between the Theatre Royal and Riding Lights Theatre Company, co-directed by Paul Burbridge and Juliet Forster and drawing on two alternating community casts with a total of over 60 amateur performers and stage crew (and three professional actors), Two Planks and a Passion is itself a hefty undertaking, and a showcase which brings together York-based talent in many areas.
Set in the 1390s around the visit of Richard II and his increasingly ailing wife Anne of Bohemia to York, the play focuses on the townsfolk's reaction to this visit and its impact on their preparations for the Mystery Plays. As such, the choice of production is apt, providing a brief introduction to the concept and history of the Mysteries, but also pointing up amusing ironies around the clash of the (professionally acted) royalty with the (community-cast) commoners, and the influx of London ways into the provincial backwater of (14th century) York.
The references within the play, to Bootham, Micklegate, the Minster and other recognisable York locations, in its original productions in Exeter and London served to add layers of local flavour and authenticity; here they provoke frissons of recognition among the audience. Jokes about the aristocracy's readiness to demand what gifts they will of the obeisant and bumpkinish populace might be in danger of alienating the audience, were the royal party not depicted with such sympathy and enjoyment by the three members of the Theatre Royal's professional ensemble.
There is quality in the amateur ensemble too, which has been cast astutely. Divided into two 'Guilds', the production seen by the public will differ from night to night depending on which of the Guilds is on duty. The cast on Press Night were certainly capable and well-drilled, despite some issues with volume of projection - the pseudo-in the round setting adopted by the theatre for its main 2011 season is not the easiest acoustic to deal with. But the majority of the community cast hold their own admirably, with some excellent comic timing from Toby Gordon, David Rounce and James Rotchell as labourers from the Painters' Guild tasked with staging the Crucifixion and struggling with their paymasters' constant adjustments to script and mise-en-scène.
Rory Mulvihill in particular stands out as an actor at ease on this stage, filling the space with his voice and personality and providing a solid foundation for the rest of the amateur cast. Maurice Crichton and Rebecca Beattie bicker amusingly, the harridan, petit-bourgeois wife screeching incitements to her husband to ingratiate himself with the royal party while he, cuckolded and penny-pinching, suffers long. An excellent, well-judged comic turn from Paul Stonehouse as the indolent, self-important Father Melton is further evidence of the strength of the amateur actors.
And when the royal party itself arrives, it is played with pitch perfection by a trio of extremely likeable actors. Jonathan Race as Richard is reliably, enjoyably cynical but truly in love with his wife, and with his good friend the Earl of Oxford. Michael Lambourne, familiar from sweatily physical turns in various children's shows as well as the recent My Family and Other Animals, here shows suaveness and wit as the playful, exiled Earl, with a vocal presence whose strength, ease and affability can serve as a lesson to the amateur cast surrounding him. But it is Emily Pithon who shines brightest. Her portrayal of Margo in My Family... was assured, but that was a fairly straightforwardly eccentric comic role. Here she does not put a foot wrong as Richard's Bohemian Queen, mixing a playful and teasing sense of fun with a genuine common touch and intelligence, imbuing the play's potentially mawkish denouement instead with a moving grace.
Two Planks and a Passion itself is overlong and would have benefited from some trimming - as a work, it is problematic and does not quite rise to an engaging climax as some of Minghella's later texts manage. But as a project uniting a (massive) professional and amateur team, and as a taster of the Mysteries for beginners, the production is to be commended.
Reviewer: Mark Love-Smith