Two-Way Mirror
Arthur Miller
Courtyard Theatre, Covent Garden
(2006)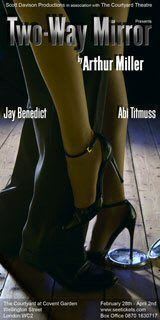 A multi faceted mirror where two short plays, Elegy for a Lady at one end and Some Kind of Love at the other, are bridged by an interval and a common theme, which is a journey through the masks of illusion to an ultimate reality.
In the USA the production of these plays did not live beyond New Haven, Connecticut, where they ran at Long Wharf for six weeks in 1982. By contrast the plays were warmly received in London when staged by Thacker at The Young Vic 1989 with Helen Mirren and Bob Peck.
In the small (80 seat) Courtyard Theatre the stage is plain and almost bare but for a small boudoir on the one side and an arm chair at the corner for Some Kind of Love. It is all up to the actors to impress the audience in that tiny ambience where the actor is put under close scrutiny.
The director Mike Miller (no relation to the playwright) elected that Some Kind of Love should be played first. Abi Titmuss' impressive debut performance as Angie, a former prostitute, now married to a man who beats her, seems to suffer from a multiple personality syndrome. Her body language, flattering eyelashes and seductive smiles convey beautifully the transition from one identity to another. Like her former lover, the detective Tom O'Toole (Jay Benedict). one is not certain what she actually knows and how much she is able to reveal. She moves quickly in and out of alternate identities; at times she is Emily, an eight year old girl, Leontine, a house whore and Rentata, a respectable upper-class lady. Although Tom recognises each of her masks, he is never sure when he is seeing the naked self and never certain that he can trust what Angie says. Jay Benedict's performance varied from a parody of detective Clouseau to ham acting embellishing the uncertainty as to what he believes and accepts and what he ridicules as mere figment of Angie's imagination.
Angie invites Tom to her apartment on the pretext that she wishes to discuss the Felix Epstein case, which Tom has been trying to crack for five years. Tom is convinced that Angie has privileged information and holds the key to the innocent Felix's release from prison. However, his desperate attempts to establish Felix's innocence proved as elusive as Angie's bits of information fed gradually to him. Some of the details revealed implicate the city's political guardians in drugs and in conspiracy to conceal murder and suggestively implicate a network of criminals who could undermine the law. Her true motive is that she fears for her life. She fears the squad car parked outside her apartment. Tom initially cannot see that car and suspects Angie's motives for inviting him though there is a lingering sense that she might be telling the truth after all.
In Elegy for a Lady the stage is bare apart from two chairs and the two characters - A man (Jay Benedict) and Abi Titmuss, the Proprietress, who, we are informed, is dressed in Dior suit.
The man is searching for a present for his thirty-year-old lover, who is about to die. The Proprietress offers not only gift suggestions but compassion and support. The question of what to give sustains the dramatic action. The conversation between the two defines the nature of the Man's relationship with the dying woman.
The play itself is weak and lacking the dramatic elements which assist to elevate the written word from the page into a memorable act on stage.
"Two-Way Mirror" runs at the Courtyard Theatre Covent Garden until 2nd April. We apologise for the late appearance of this review.
Reviewer: Rivka Jacobson