30 and Out
Kit Sinclair
Prentice Productions with Kit Sinclair
Pleasance Courtyard
–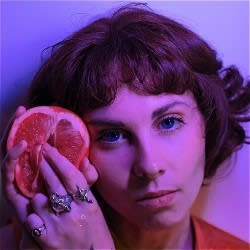 "What does being a lesbian mean to you?" Kit Sinclair is going to tell you what it means to her. "And it's going to get messy." (And it does. Ms. Sinclair and her adventurous director, Charlotte Ive, have made sure of that.)
Kit Sinclair finally figured out what was wrong with her life, her marriage and her friends. She's a lesbian. And she has to figure out what that means and what she's going to do about it.
Although this opened up for her a scary and unknown lifestyle (she has trouble saying the word), she jumps in head first. In for a penny, in for a pound. And this change in perspective and perception was going to take a little work; she knew it was going to be loaded with challenges to get a lot of fun.
There is a large team of technical artists who make this happen: producer Rebecca Prentice, movement director Lolo Brow, composer and sound designer Nicola T Chang, caption and lighting designer Rachel Sampley, associate lighting designer Will Alder, TSM / operator Roshan Conn and Han Conn. It's a very polished production.
Reviewer: Catherine Lamm