The 39 Steps
Based on the novel by John Buchan and adapted by Patrick Barlow from an original concept by Simon Corble and Nobby Dimon
Tricycle Theatre, Kilburn
(2006)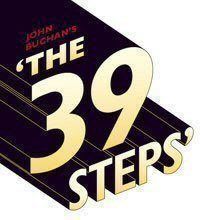 Two thugs with turned-down trilbies and upturned collars, ruthless members of a German spy ring, lurk under a lamp in the street outside. Meanwhile in Richard Hannay's Portland Place apartment, a glamorous femme fatale lies sprawled across an armchair with a knife in her back, having already spilled the beans to her unwilling host.
This can only be the starting point to John Buchan's 1915 thriller of German agents plotting to gain the naval upper hand in the First World War.
But, no: this is in fact Patrick Barlow's superbly inventive spoof reconstruction of Hitchcock's 1935 spy movie, a film which blithely chucked out most of Buchan's plot in favour of a script by comedy playwright Ian Hay (among several other hands), complete with a Scottish-based love story for Robert Donat as the debonair colonial and Madeleine Carroll's blonde, linked to Hannay by police handcuffs, including moments of sheer terror at the hands of criminal agents determined to eliminate Hannay and his feminine alibi.
Barlow's National Theatre of Brent-style four-hander was first seen last year at the West Yorkshire Playhouse in an acclaimed staging by Fiona Buffini, featuring key moments from the film as Hannay is pursued, not only by the cops, but also by members of a Highland-based Nazi spy ring determined to suppress what he may know about their plot to steal crucial secrets of Britain's air defences.
A circus-style production is currently playing at the Byre Theatre in St Andrews until September 2, 2006. But the one to watch is this brilliant Tricycle revival by director Maria Aitken, perfect summer entertainment for the dog days of August, but which deserves to make its reappearance as popular Christmas fare, ending as it does with a cosy scene of Yuletide caresses and kisses.
This restaging, by the original Leeds technical team, provides even faster fun than Buffini with a new and illustrious cast led by Charles Edwards as the suavely inscrutable, lantern-jawed Hannay in a tweed three-piece suit. Plus a starry, eye-catching performance by slender Catherine McCormack, portraying not just the spy 'Annabella Schmidt' with her husky mittel-European accent, but also the sex-starved crofter's wife Margaret, and a dazzling tour de force as blonde bombshell Pamela with bruised, manacled wrists, romping through the Scottish highlands forcibly coupled to Hannay.
The two other performers are Simon Gregor, first seen in the Leeds premiere production, and the versatile Rupert Degas, who between them impersonate cops, crooks, pipe-smoking lingerie salesmen, tartan-clad dancers, a sinister Nazi professor and an inaudible electioneering chairman; not to mention a Highland crofter, a whistling milkman, and a music hall turn at the London Palladium, all with a swift change of costume and headgear.
Memorable scenes include Ms McCormack sexily removing her rain-drenched silk stockings in a B&B bedroom while Hannay caresses her bare thighs, shadow play moments as a police biplane plunges to earth in a cinematic explosion of aviation fuel, and an extraordinary re-enactment of Hannay's escape on the Forth railway bridge, pursued by whistle-blowing cops, cleverly using scene painters' ladders in place of the ironwork.
The final moments look as if neither Hitchcock nor Barlow knew quite how to wind up the plot. But there is a marvellous scene at the Palladium as the Nazi boss takes a pistol pot-shot at 'Mister Memory' (Gregor), while Hannay finally surrenders to the grateful, all-forgiving Special Branch cops at Scotland Yard.
But apart from the derring-do, the quick-change brilliance of Gregor and Degas, and the square jawed savoir faire of Edwards as Hannay, the evening's chief delight is the ineffable glamour of film actress Ms McCormack, coping with every comic vicissitude while looking a million dollars in superbly cut 1930s costumes, carving a new comedy stage career with her eye-catching presence and stylishly witty playing.
Philip Fisher reviewed this production when its transferred to the Criterion Theatre
Reviewer: John Thaxter