The 39 Steps
Adapted by Patrick Barlow from the novel by John Buchan
Edward Snape for Fiery Angel Ltd and Tricycle London Productions Ltd in association with West Yorkshire Playhouse
Gala Theatre, Durham, and touring
(2010)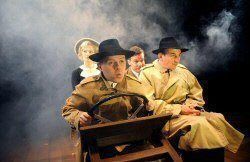 First published in 1915, John Buchan's classic novel The 39 Steps has been filmed three times for the silver screen. It is also now a stage show that has wowed the West End and Broadway and continues to play in many major cities across the globe, including Berlin, Paris, Rome, Sydney and Tokyo.
Patrick Barlow's adaptation is a slick spoof of the quintessential spy story that is a rocking, roller-coaster ride which has the suave and debonair Richard Hannay (brilliantly played by Dugald Bruce-Lockhart) embroiled in a mix of murder and espionage that sees him fleeing his stylish London bachelor pad for the remote Scottish highlands in an effort to clear his name and solve the mystery of the 39 steps.
Only four actors play 139 roles during the performance which lasts just over an hour-and-a-half, and they do so with amazing skill and aplomb. Katharine Kingsley shines as Annabella Schmidt, the femme-fatale who lands our hero into the sticky situation in the first place, and is also wonderful as Margaret, a Glaswegian girl who has married an overbearing farmer, and Pamela, the aloof society girl who eventually falls for Hannay's charms and aids him in his attempt to prove his innocence. Richard Braine and Dan Starkey make an hilarious double-act as they portray more characters than I could keep track of – their transformations from character to character, with only the aid of a change of accent and hat or coat, are truly outstanding.
However, it is Dugald Bruce-Lockhart's charismatic performance as the slightly smug Hannay that steals the show. Every mannerism and movement, every nod and nuance is carefully crafted and perfectly honed. He strikes the right balance between dashing hero and unscrupulous cad and has the audience firmly in the palm of his hand throughout the entire performance.
Peter McKintosh is to be congratulated for his beautiful set design, which is as functional as it is beautiful. The use of a limited number of props to denote differing scenes and settings is inventiveness bordering on pure genius. Maria Aitken's direction ensures that the pace is never anything short of frenetic and the comedy and parody are skilfully intertwined with suspense and romance.
It is little wonder that this gem of a production has notched up two TONY awards during its Broadway run, an Olivier award in the West End, and thrilled audiences for almost half a decade. You'd be mad to miss it!
Running at the Gala until 1st May
Reviewer: Steve Burbridge