The 39 Steps
John Buchan, adapted by Patrick Barlow
Criterion Theatre
(2008)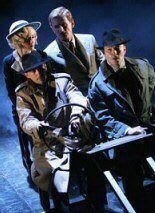 The 39 Steps, now in its second year at the Criterion Theatre and boasting an Olivier for best new comedy, is a fast paced, quick witted comedy caper which shows absolutely no signs of slowing down.
Nigel Betts and Alan Perrin join the cast to make up the other half of the four strong ensemble who play approximately thirty nine characters amongst them with Betts and Perrin taking on the majority of these roles.
The melodramatic farce involving the falsely accused and ever so suave Richard Hannay (Jo Stone-Fewings) who is on the run to prove his innocence continues to be a sophisticated and slick "who dunnit" mystery with plenty of surprises thrown in (literally) along the way.
Taking its inspiration from the John Buchan novel of the same title and the subsequent films that were made, most memorably Alfred Hitchcock's 1935 version, the play is very much of the same beautifully over the top performance style. However with a twist, why have a cast of thirty when four actors can play all the roles?
As the stage transforms from London town house to the Scottish moors to a B&B and even the London Palladium, the performers maintain the pace as they switch between spy, cleaning lady, milkman, policeman and farmer to name but a few with Betts and Perrin often skilfully playing two or three roles simultaneously.
Betts and Perrin are superb creating distinctive and memorable characters; no matter how minor, no line is thrown away. What could easily descend into a shambles is in fact polished and extremely tight with the doubling/tripling/ quadrupling of roles creating much of the humour.
The melodramatic dialogue is superbly observed with many a wink to the audience. The sweeping score throughout enhances the performances adding yet more comedy to moments of high emotion.
The 39 Steps is delightfully theatrical and unashamedly so as it virtually draws the audience's attention to the majority of its theatrical devices. Tongue in cheek, yet certainly not without a brain this production should continue to do "jolly well old chap" .I say.
Visit our sponsor 1st 4 London Theatre to book tickets for The 39 Steps.
Reviewer: Rachel Sheridan