The 39 Steps
Based on the novel by John Buchan and adapted by Patrick Barlow from an original concept by Simon Corble and Nobby Dimon
Yvonne Arnaud Theatre, Guildford, and touring
(2008)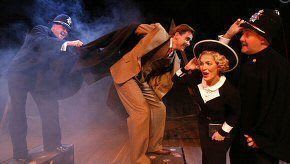 Surely it should be impossible to stage The 39 Steps in the style of Hitchcock's 1935 movie where locations ranged from a London apartment to the wilds of Scotland, taking in a desperate chase over the moors, a jump from a bridge, and escape from pursuers over the top of a moving train, not to mention the dénouement with a dead man falling to the stage from a box at the theatre. Well, with a great deal of ingenuity, a lot of imagination, some superb sound and lighting effects (and with more than a cursory nod in the direction of the old silent film comedies) this brilliantly inventive company have achieved the impossible.
With a cast of just four, David Michaels is the only one with the 'luxury' of playing only one character – our 'Boy's Own' style hero Richard Hannay, his pencil mustache firmly attached to his stiff upper lip – but this is no easy ride. In a very physical performance (train, bridge, chase etc.) he is often dripping in perspiration, while still keeping his British sang-froid. While he is escaping from capture for his supposed part in a murder, each 'radio' announcement describing his appearance 'improves' his looks as they go along. It is attention to little details such as this which make the show such a joy.
Clare Swinburne has three roles, with her very diverse characters faultlessly and sympathetically executed (all right – very slightly overdone as befits the style of the show). The remaining characters are simply Man 2 (Colin Mace) and Man 1 (Alan Perrin) with far too many changes between them to even begin to list, and the show proceeds at a hilariously frantic pace with the changes brilliantly effected sometimes only by a change of hat – along with appropriate accents and attitudes.
Mic Pool and Ian Scott provide the impeccably timed (or mistimed) sound and lighting effects, and movement director is Lecoq-trained Toby Sedgwick, to whom must go a lot of the credit for the success of this fast moving production. Shadow play too is used to great effect, particularly to assist the moorland chase – 'planes, boats, trains, even the Loch Ness Monster lending a hand.
Despite the chaos ensuing constantly on stage, with props coming and going, director Maria Aitken (redirected by David Newman) manages the keep the action centred. There may be a dead woman with a knife in her back creeping 'unobserved' offstage, but we are nicely focused on Hannay and his means of escape.
Although some of the devices used to convey meaning have been seen many times before – a window frame brought in to climb through for example - every one seems original and unexpected which, to me, is the essence of the best comedy. One of my favourite moments is a spy/policeman saying "Step into the car please, miss" and the consternation on their faces as they look to where the car should be. Whoosh, whoosh – four chairs and wheel are in place and off they go.
Guildford audiences are not always so vocal in their appreciation of a show, but they could not resist prolonged cheering at the end, and everyone left the theatre with a broad smile on their face. A show to be treasured – I'm still laughing!
This touring production was reviewed at Northampton by John Johnson and by Peter Lathan at Newcastle
Reviewer: Sheila Connor