Triple Bill I (War)
George Bernard Shaw
Orange Tree, Richmond
(2006)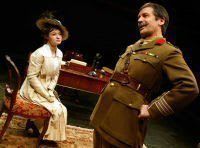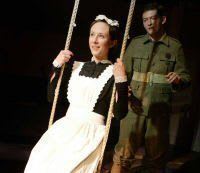 Sam Walters, the Orange Tree's artistic director, can always be relied on to come up with neglected plays by well-known writers. This season he is celebrating Bernard Shaw's 150th anniversary, the only theatre to do so. He offered two triple bills of one-act plays, one bill was on a theme of love (reviewed separately), while the other bill was on a theme of war, reviewed below.
Augustus Does His Bit (directed by Toby Frow) is a joke at the expense of military incompetence in high places during World War 1. How do you win a war with patriotic imbeciles like Augustus running it? He sits on 37 royal commissions and the foreign office is staffed entirely by his relatives. When he was captured by the Germans they listened to his opinions on politics and military strategy and send him back to England immediately. The men in the front line in 1917 recognised the accuracy of Shaw's portrait only too well. Augustus is played by a blustery Stuart Fox.
O'Flaherty, VC (directed by Adam Barnard) was wittily described by Shaw as a recruiting poster in disguise. O'Flaherty, having just won the Victoria Cross, is sent on an exhausting recruiting campaign. The irony is, being an Irishman, he holds no allegiance to Britain whatsoever. His mother thinks he has been fighting against the British. She is furious when she finds out he has been fighting for them. Her king and country are Parnell and Ireland. Irish men only joined up during World War 1 because of the poverty, the unemployment, and, of course, to get away from their wives. Matt Houlihan is well cast in a role once played by the young Ian McKellen.
Press Cuttings (directed by Adam Barnard) was a once topical revue sketch on the suffragette movement and showed the government failing to cope with the problem until the Primed Minister (who could only leave Downing Street in safety if he disguised himself as a woman) decided that if you can't beat them, you'd better join them. His military advisers were all for shooting the women. A General (well played by Geoff Lesley) points out that it would be far more humane than sending them to Holloway where they would be force-fed. Not all the women wanted the vote, realising that they would lose their influence over men once they had it.
Reviewer: Robert Tanitch