Three Days in May
Ben Brown
Richmond Theatre and touring
(2011)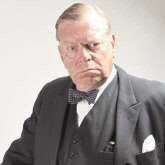 Ben Brown's last play, The Promise, which opened at Richmond's Orange Tree Theatre last year, took as its subject the origins of Israel, specifically the British government's involvement in securing a Jewish state via the Balfour Declaration of 1917.
Historical events are also the focus of Brown's new play Three Days in May, which turns its attention to the WWII period, taking as its subject the three days in May 1940 in which Churchill's war cabinet seriously considered "suing for peace" with the Axis.
Brown's play opens on May 26th, the day of national prayer, on which Churchill (Warren Clarke) is visited by the French Prime Minister Reynaud (Timothy Kightley), who encourages him to join France in negotiating piece terms with Hitler through Mussolini; it concludes on the evening of the Prime Minister's address to the cabinet on May 28th. The drama pits the Foreign Secretary, Lord Halifax (Jeremy Clyde), a strong proponent of brokering a peace deal, against Churchill, while in between them stands Neville Chamberlain (Robert Demeger), disposed to side with Halifax yet tormented by his memories of Hitler's broken promise at the Munich Conference of 1938.
Brown's play constitutes a notably lucid job of story-telling, with the debates laid out clearly and evenly, and Alan Strachan's no-nonsense production - which runs for a brisk 2 hours - holds the attention throughout. And yet the overall effect is rather like that of being at a lecture, one delivered by a competent and conscientious - yet slightly dry - professor. Where The Promise achieved a compelling balance between the public and private lives of its protagonists, Three Days in May's exclusive focus on the machinations within Downing Street proves less revealing and limits Brown's ability to really flesh out the characters.
Some scenes seem likely to have resonated more strongly in a smaller, more intimate venue, such as the Orange Tree or the Stephen Joseph Theatre, where Strachan has directed previously.
Warren Clarke's characterisation keeps faith with the Churchill of the popular imagination. Bluff yet astute, cigar-puffing and whisky-swilling, with 'the voice' down pat, Clarke delivers an entertaining performance here, one that goes deeper than caricature but not much deeper than impersonation. It's only in a few quiet, all-too-brief between-scene moments that the weight of Churchill's dilemma is communicated, and as it progresses the play starts to veer uncomfortably close to hagiography in its presentation of the protagonist.
James Alper has a likeable, easy manner as Jock Colville, Churchill's Private Secretary, but, cast in the role of narrator of the piece, he's saddled with the most obtrusively exposition-heavy dialogue.
The most involving work comes from Jeremy Clyde, whose distinguished performance shows how Halifax's inclination to, in Churchill's blunt summary, "do a deal with Hitler," is motivated by his deep concern for England's fate, and from Robert Demeger, who, stepping in for an indisposed Simon Ward, delivers an understated and sympathetic account of Chamberlain.
Formally and ideologically conservative, Three Days in May is a solid, serviceable entertainment that succeeds as a cogent history lesson but doesn't quite deliver the dramatic fireworks one might expect.
Running until 3rd September at Richmond Theatre, then touring to (Sept 5-10) Cambridge Arts Theatre; (Sept 12-17) Theatre Royal Bath; (Sept 19-24) Malvern Theatre; (Sept 26-Oct 1) Theatre Royal Brighton; (Oct 3-8) Milton Keynes Theatre and (Oct 10-15) The Yvonne Arnaud Theatre, Guildford.
Sheila Connor reviewed this production in Guildford. It was also reviewed by Philip Fisher at Trafalgar Studios.
Reviewer: Alex Ramon